The 2023 Academy Awards are fast approaching, with blockbusters like Avatar: The Way of Water and Top Gun: Maverick sitting alongside indie hits Everything Everywhere All at Once and All Quiet on the Western Front in the nominations for the Best Picture prize. However, Oscar campaigning begins months before the Hollywood ceremony – PRs and management teams for actors and film studios mobilise to generate and harness media coverage, putting their stars front and centre in the minds of Academy voters.
But can media buzz translate to victory on the night? Cision Insights has taken a look at both traditional and social media – with a spotlight on what happened in the 2022 Oscars race – to see what it means for this year's potential winners.
Traditional Media Points Towards 2022 Winners
In 2022, the ultimate winners of Best Picture, Best Actor and Best Actress all saw their share of conversation in traditional media rise versus their competition after nominations were announced. 
In the case of Best Picture Winner CODA, the Apple TV+ film ranked just seventh among its competitive set before it received a nomination on 8th February last year, but over the following six weeks it surged up the charts and tracked second closely behind long-standing favourite The Power of the Dog – an indication of the dramatic upset that was to come on the night.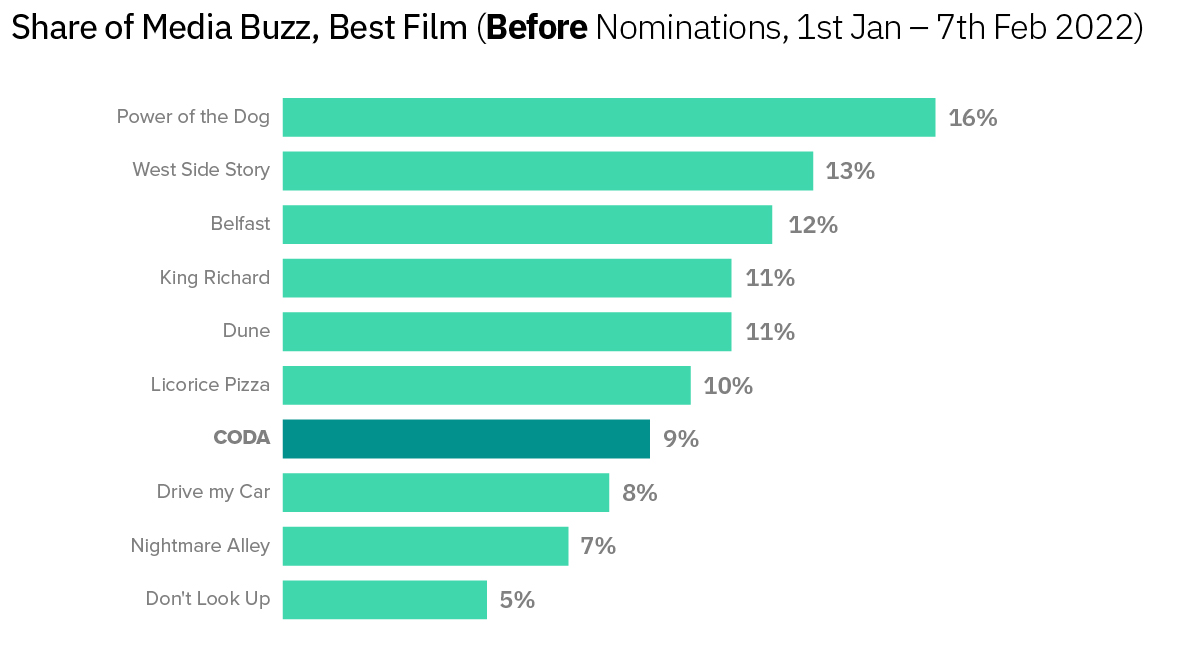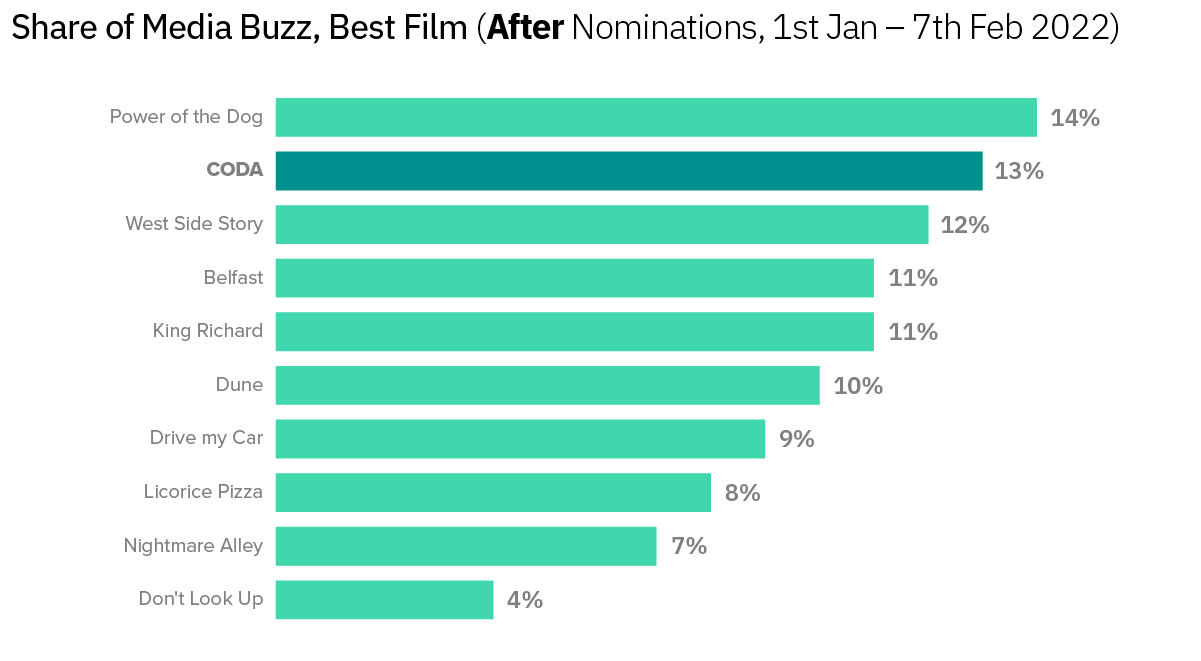 In the acting categories, both Jessica Chastain and Will Smith (in the weeks before that moment) emerged from crowded fields to lead traditional media conversation after nominations were announced. In the Best Actor race, pre-nominations leader Denzel Washington saw a sharp drop-off in buzz heading towards the event, dropping from a 34% to 17% share of nominee conversation.
Jessica Chastain gains momentum in Best Actress race: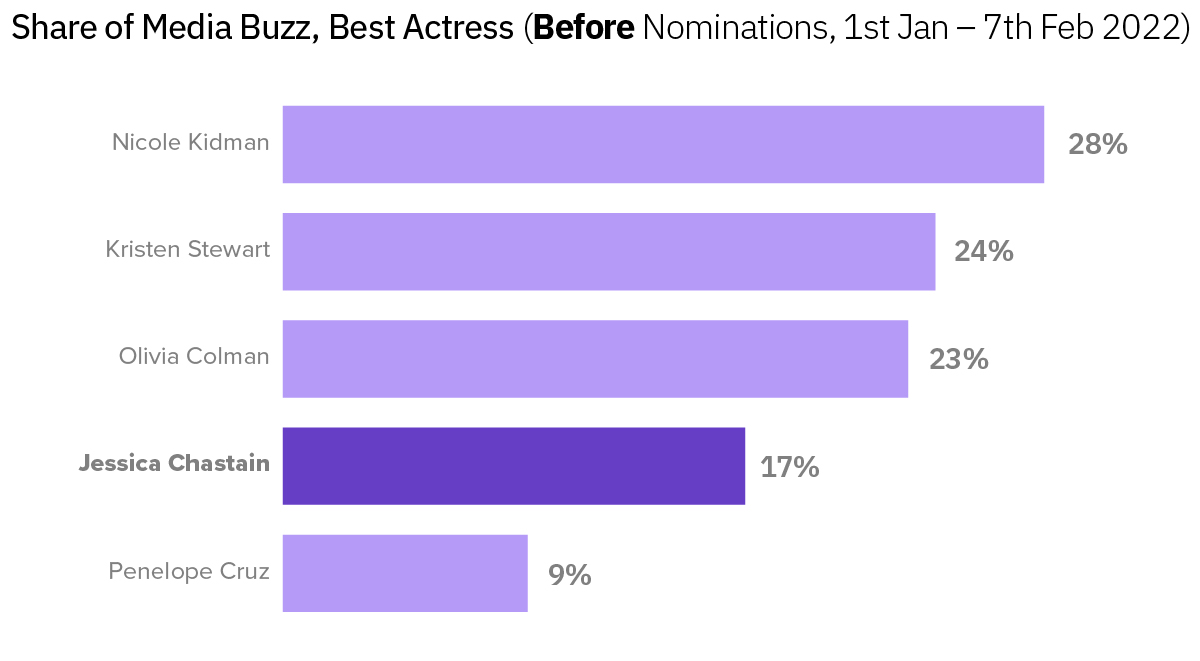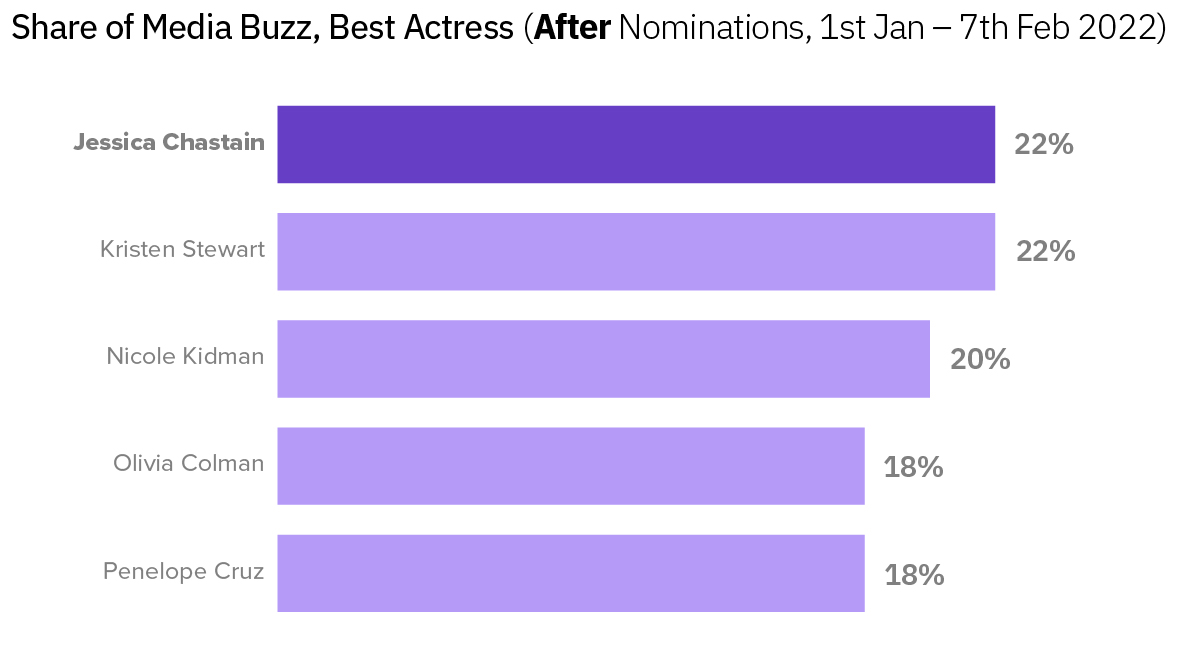 Will Smith overtakes Denzel Washington in Best Actor buzz: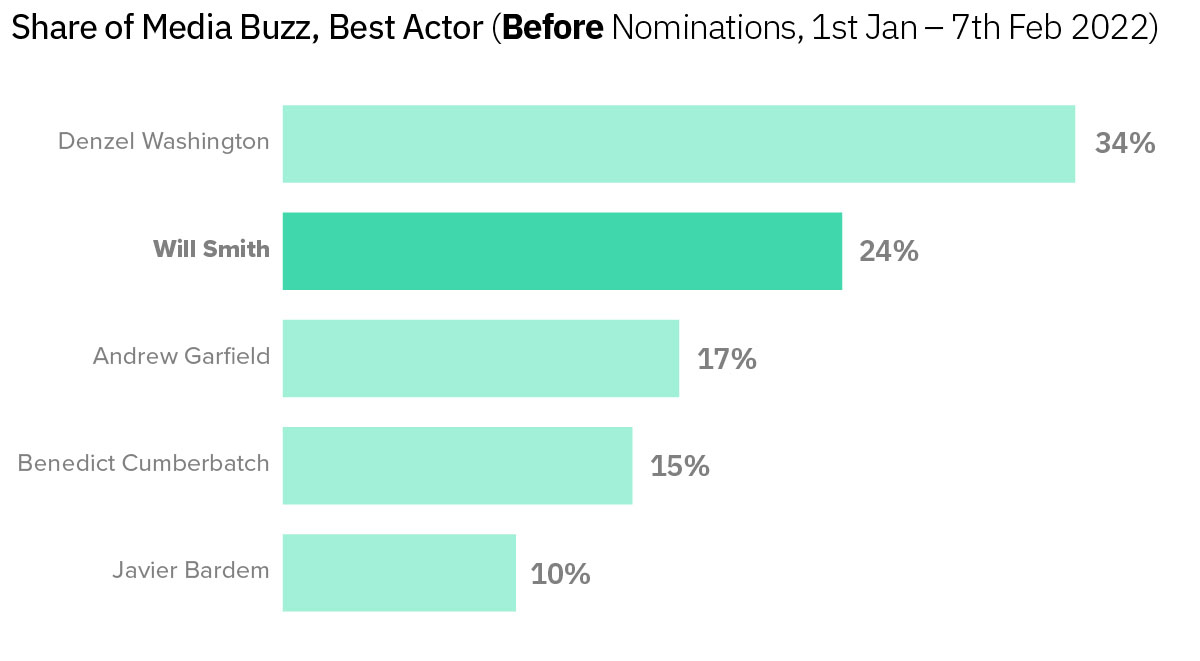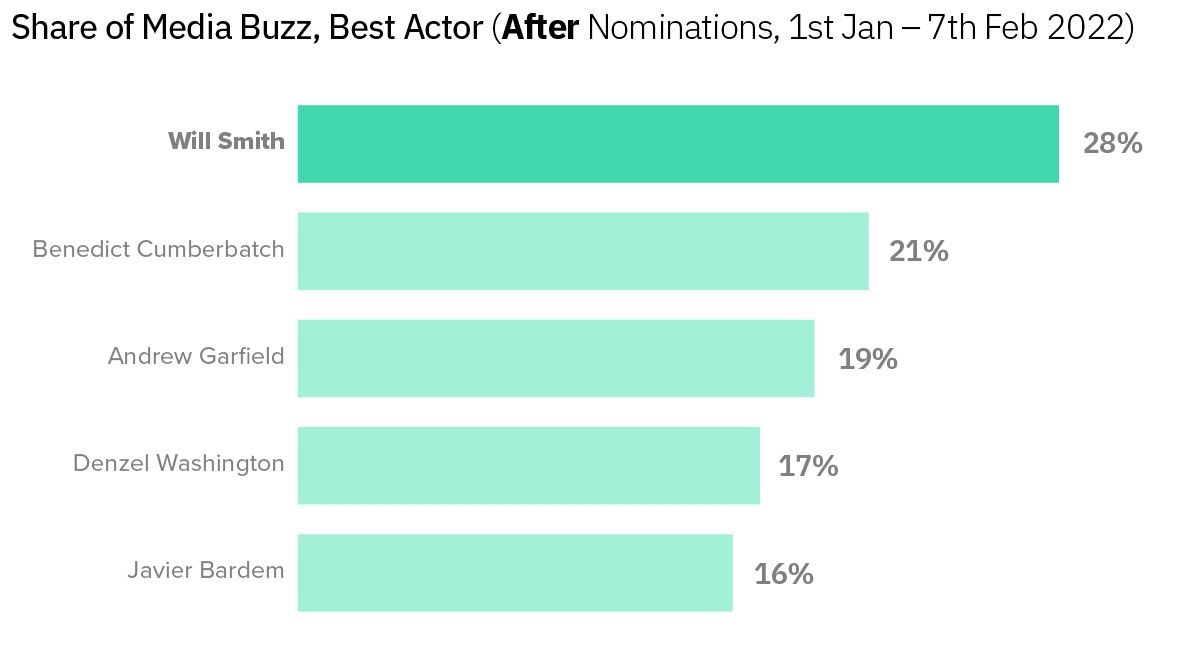 'Social Buzz' Can Be an Unreliable Guide to Oscar Wins
In the social media sphere, the level of awards buzz generated can vary far more dramatically – driven by factors such as fan campaigns, the fame of nominees and the range of users who have actually seen nominated films. 
In 2022, Dune saw considerably greater levels of discussion on social media as users speculated whether a fan-favourite blockbuster grossing more than $400 million at the worldwide box office could triumph over more traditional, niche 'awards bait' fare. Dune placed a close second in pre-ceremony social buzz behind favourite The Power of the Dog, only for CODA to spring to victory having been just the fifth most discussed film.
Social Media Buzz from 8th Feb – 26th Mar 2022: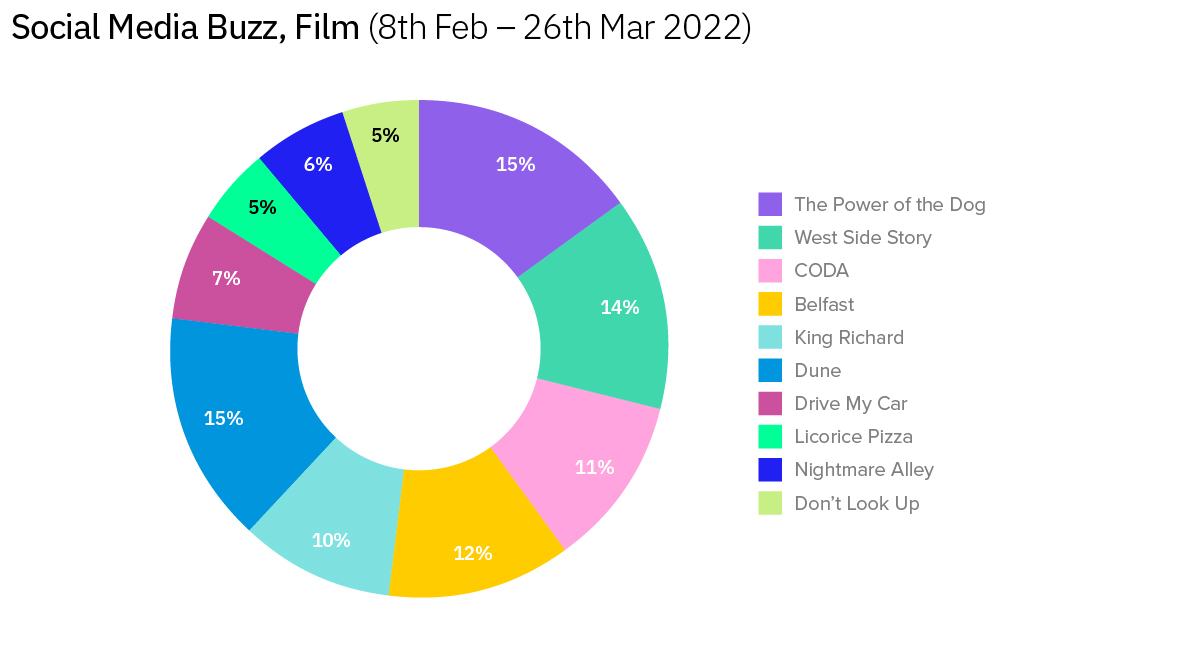 The dynamic was even more pronounced in the Best Actor and Actress categories, where dedicated fan campaigns drove buzz for Andrew Garfield and Kristen Stewart, respectively. Each star held a majority of mentions within their category for the six weeks leading up to the event. But passionate fan campaigns couldn't ultimately aid their bid for a golden statue.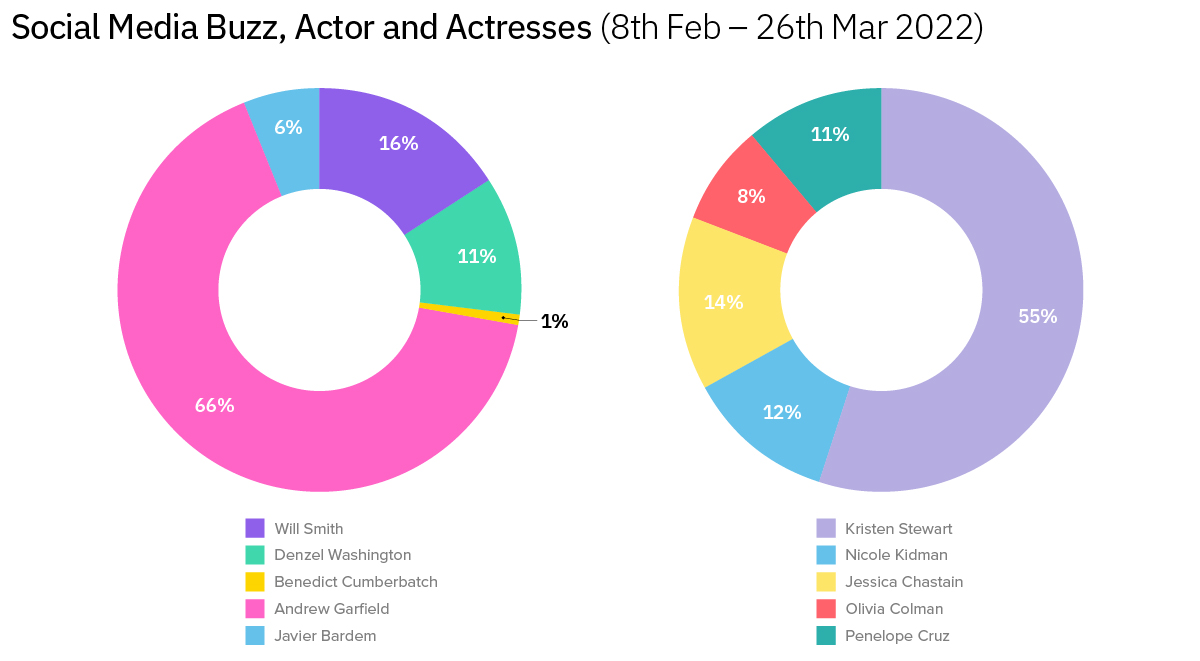 What Does it Mean for the 2023 Academy Awards?
In this year's Best Picture race, the much fancied Everything Everywhere All at Once has maintained a lead in both traditional and social media conversation throughout awards season. In fact, since nominations were announced on 24th January its share of buzz has risen thanks to dominant performances across awards season, whilst other leading contenders including The Banshees of Inisherin, The Fabelmans and Tár have fallen back.
 
Though Netflix's war drama All Quiet on the Western Front and blockbuster Top Gun: Maverick have grown in conversation over time, the race remains dominated by the mind-bending Everything Everywhere.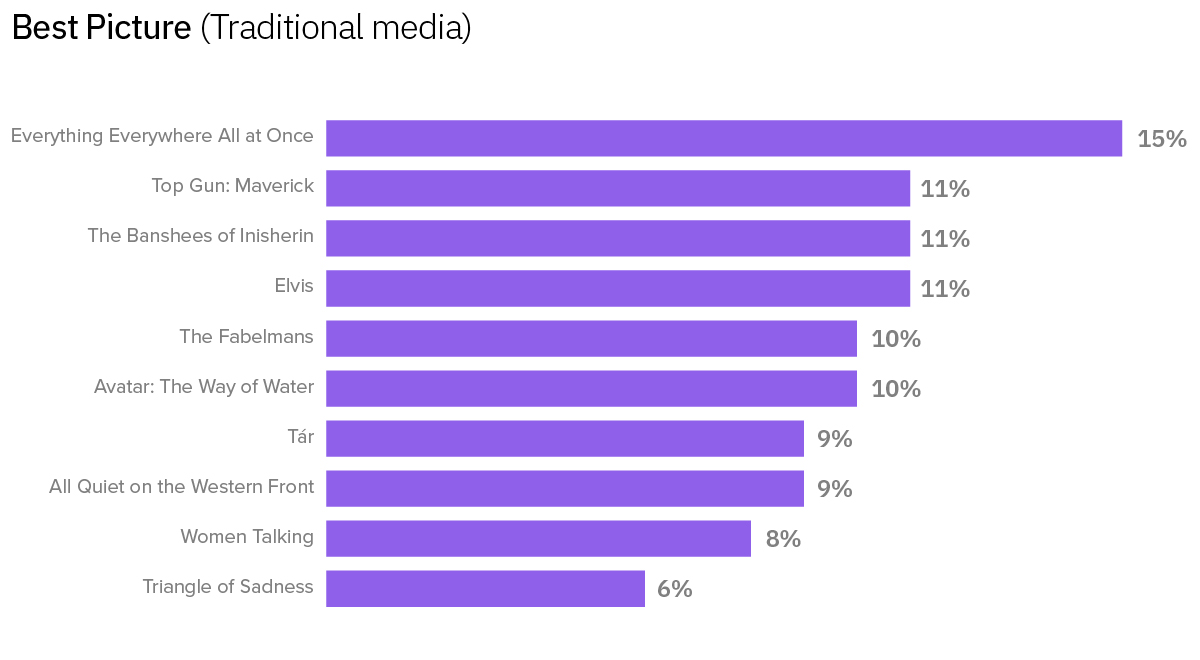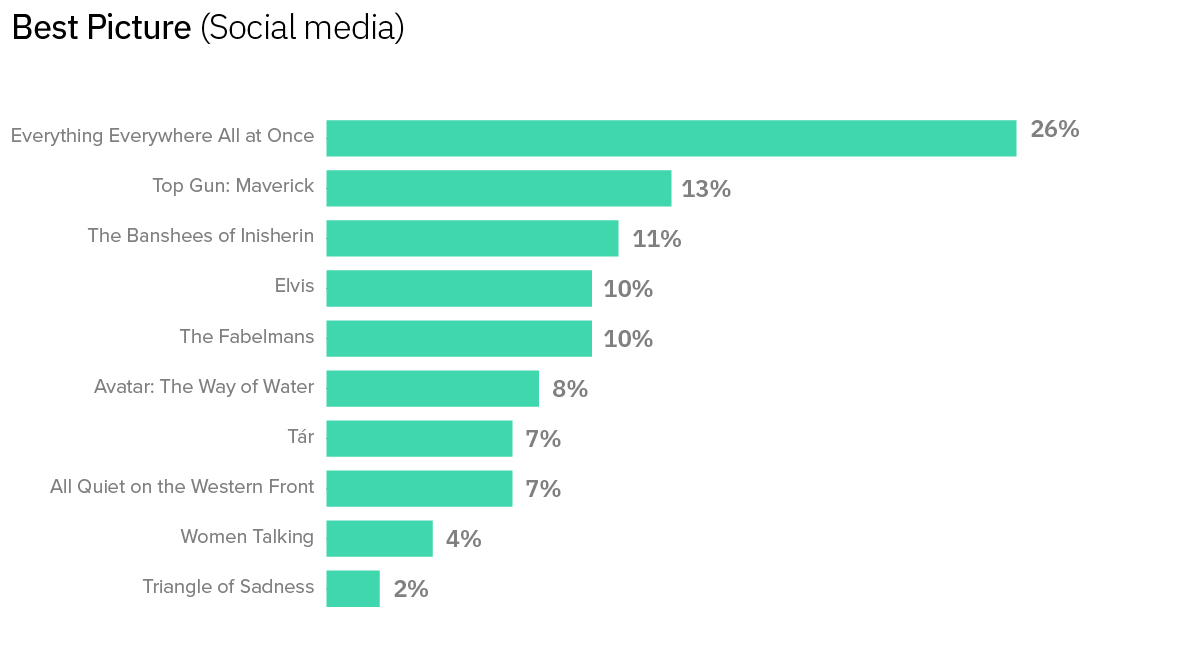 Among Best Actress nominees, Michelle Yeoh has remained separated from the pack, both before and after nominations – with social buzz in particular outpacing Cate Blanchett. The surprise inclusion of Andrea Riseborough for To Leslie has seen her catapulted into third in both media buzz rankings, having been almost invisible on traditional media prior to nominations. Michelle Williams and Ana de Armas complete the cast list but would need to upset both the odds and the media buzz in order to emerge with the golden statue.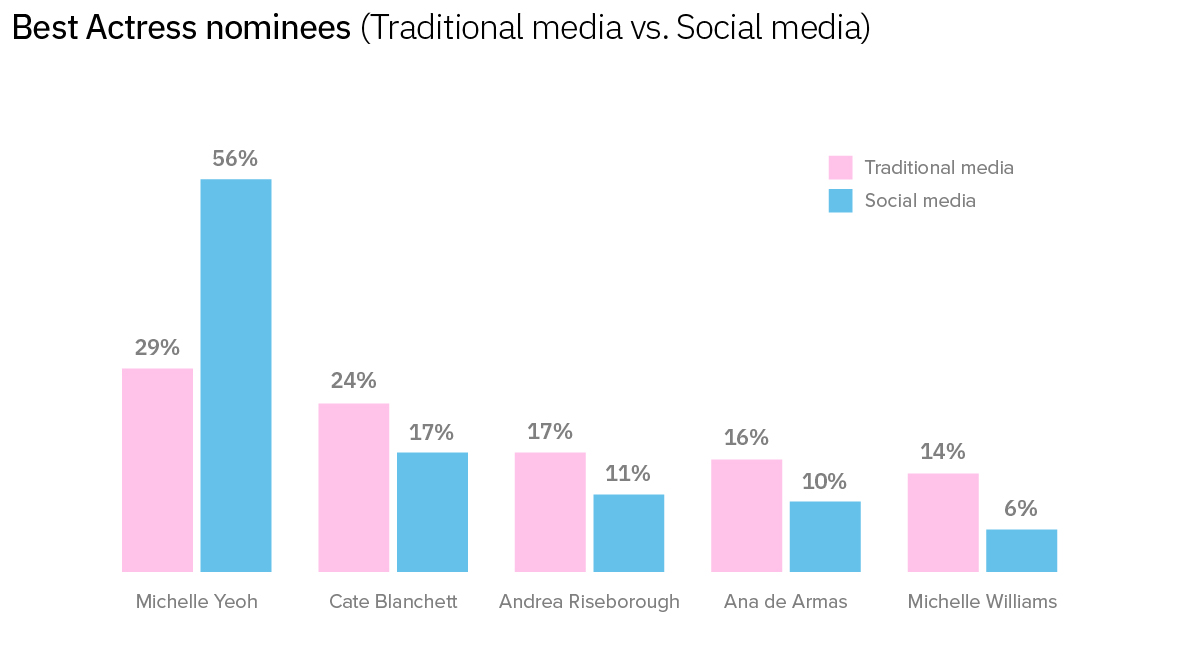 Golden Globe winners, Austin Butler and Colin Farrell, have led traditional media conversation in the competitive Best Actor category, while interviews and fan support for Ireland's rising star Paul Mescal has led the outsider to top the social media standings.
The hotly tipped Brendan Fraser sits in the middle of the pack by these measures but is considered to have a great shot for his performance in The Whale, while Bill Nighy is distanced further back and may be likely to leave a doubtless erudite acceptance speech in his pocket.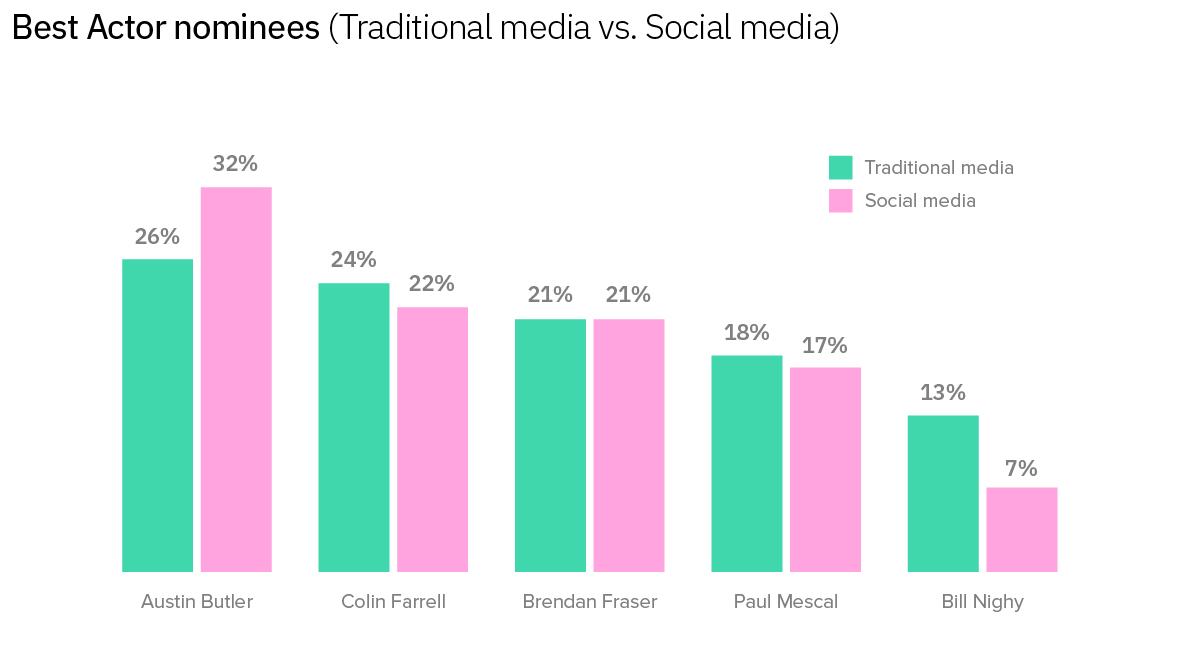 If you're looking to learn more about how Cision Insights is helping brands and comms professionals refine their strategies, get in touch to speak with one of our experts. 
 
Methodology: Keyword searches for films and actors, in connection with the specific category and the Academy Awards. Capturing global online coverage from Cision's Next Generation Communications Cloud and global social media content from Brandwatch. Figures presented are a share of total conversation among all nominees.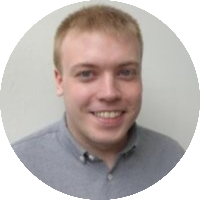 Scott is a Senior Director at Cision, building bespoke media intelligence solutions to address the challenges of communication professionals. With almost ten years of experience, Scott specialises in combining audience data, media outputs and organisational outcomes to measure the impact of communications activities.
Learn More. Do More. demo new
PR Tips, Case Studies, and Product Updates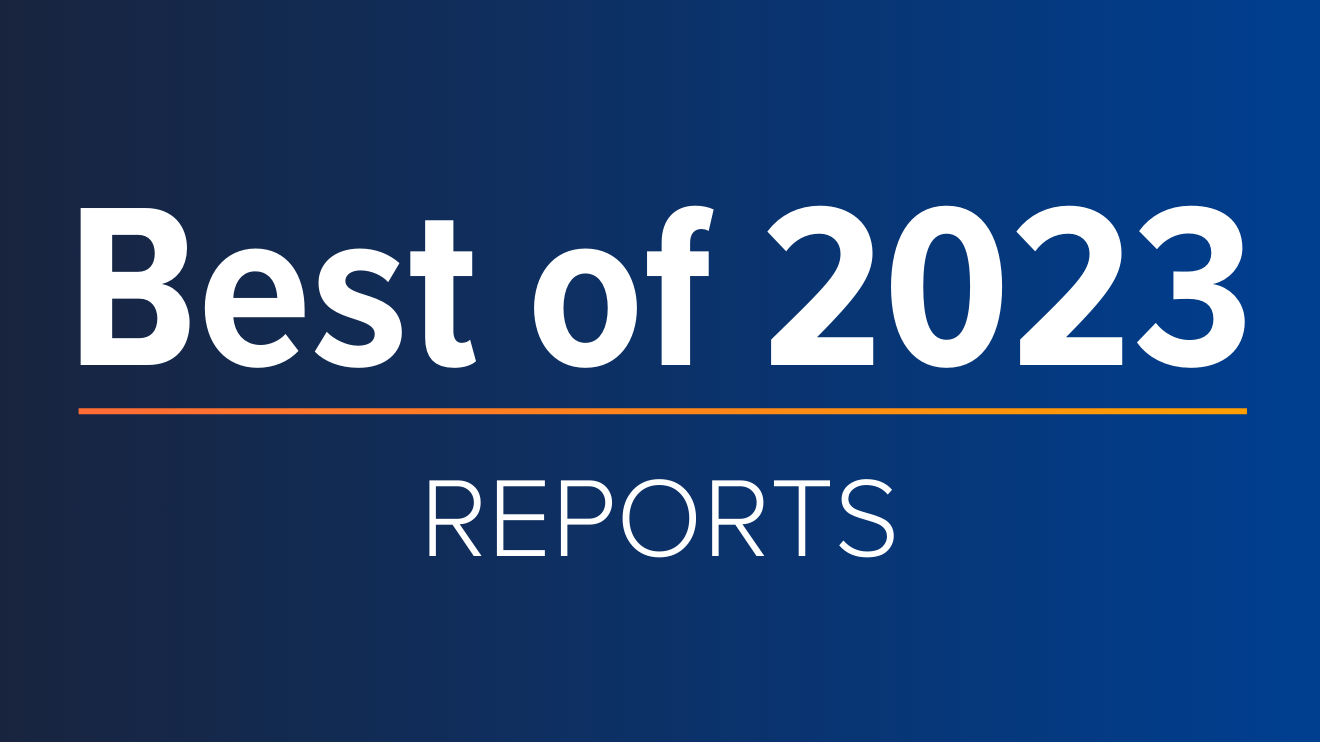 White Papers
ICYMI: Cision's Top Guides & Reports of 2023
With 2023 coming to a close and a new year rapidly approaching, now is the perfect time to reflect on the past year, lessons learned – and start setting the stage for a successful 2024. In the always-on, ever-evolving PR and comms industry, staying...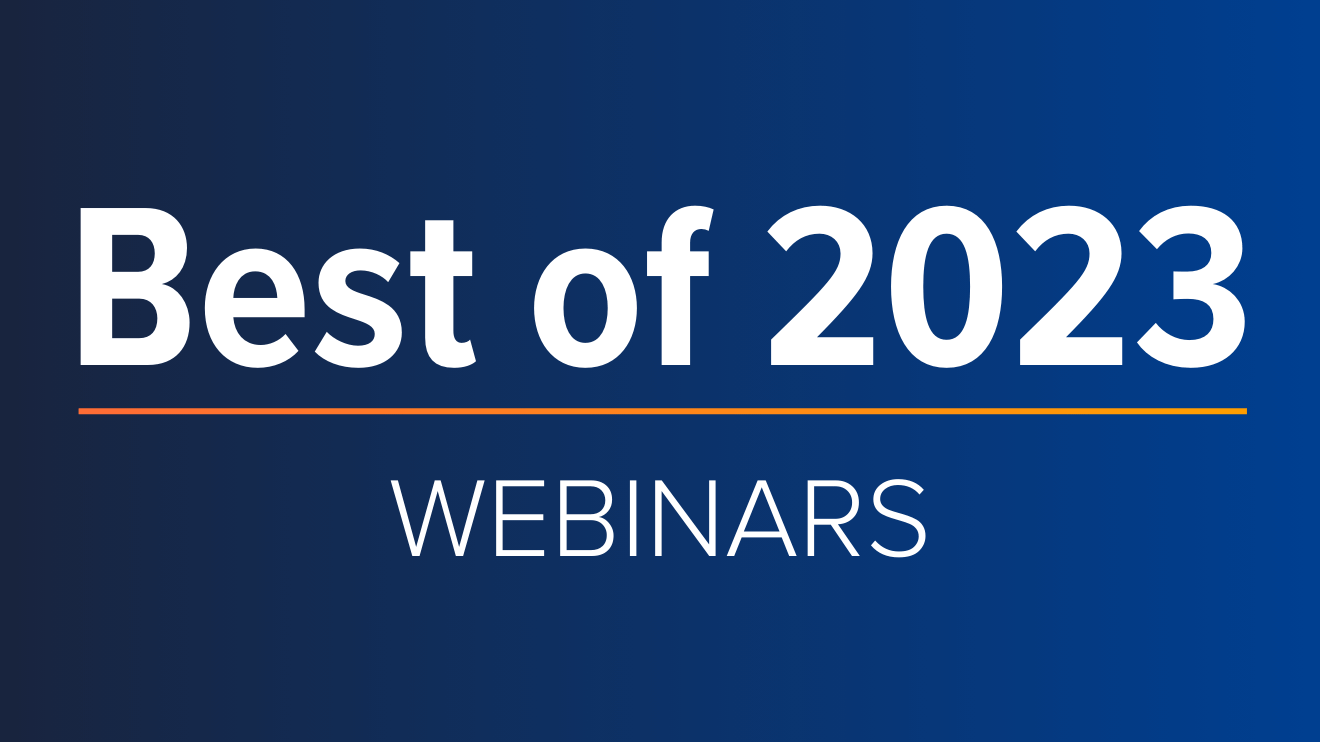 Webinars & Events
ICYMI: Cision's Top 5 Webinars of 2023
The end of the year is just around the corner, which means time to start building strategic plans, setting priorities, establishing goals and ultimately ensuring everything is ready and in place for success in the year ahead. One great way to make...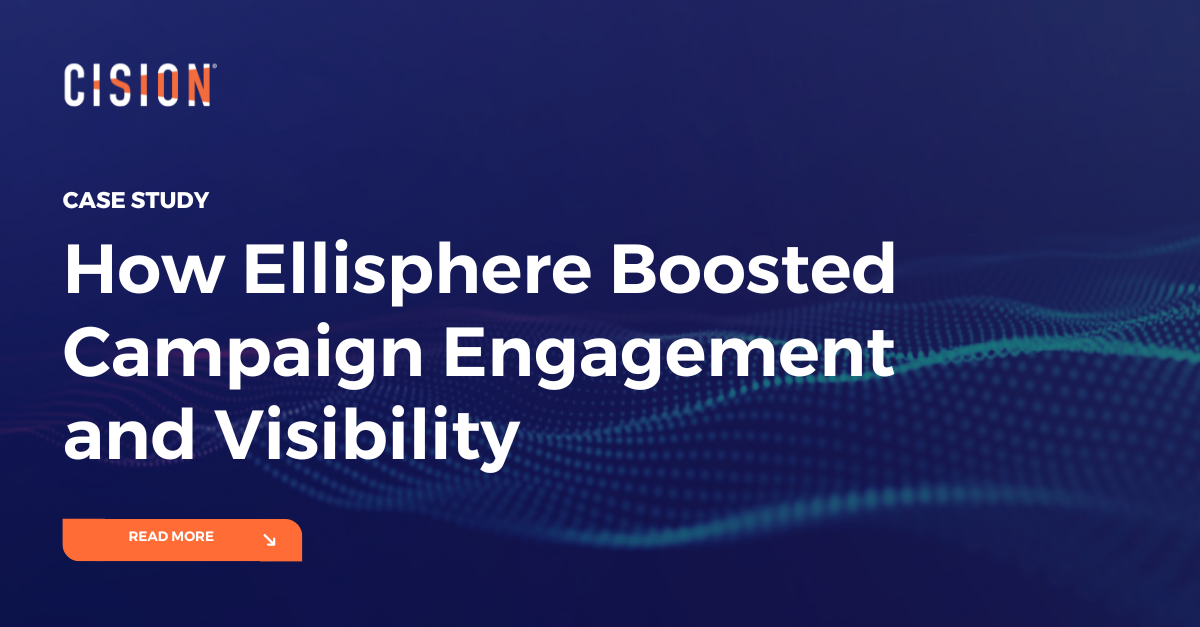 Success Stories
How Ellisphere Boosted Campaign Engagement and Visibility
Find out how Ellisphere increased engagement on their campaign content by up to 48% using our Multichannel News Releases and Guaranteed Paid Placement.