According to the most recent Global Comms Report, nearly 9 in 10 communications leaders (87%) say the C-suite is relying more on the counsel of their organisation's comms team.
Executive teams have started relying more heavily on their PR and communications teams to deliver key industry news and competitive insight that enables them to make smarter, more informed business decisions – often in a short amount of time.
One way comms and PR teams are answering this call is with daily, up-to-the moment news clips (also referred to as daily reports or executive briefings) that break down the latest, need-to-know industry trends and competitive intel – all in an easily-digestible format the C-suite can absorb quickly to ensure they're starting their day informed.
Calculating the True Cost for Your Team
In an overloaded, always-on media landscape that grows more complex by the day, staying on top of the wealth of breaking news stories trending on both traditional and social media is already a substantial responsibility. Add to that the need to sort through this information to identify the most important content and then compile into context-laden, executive-ready deliverables – all within 24 hours – and most communications teams do not have the bandwidth to take this on themselves. Even with the variety of self-service tools available to help, the time and productivity that goes into delivering these news briefings may be more than you realise.
It's ikely your team spends time…
Sorting through the vast amount of mentions for your company, brand, competitors and industry on tradiitonal and social media

Drilling down on only the most relevant news articles
Creating an executive-ready report that succinctly summarises each news story and categorises it in a way that enables the C-suite to focus on the news that matters most – from competitive news to investor analysis
Even if the members of your comms team did have the time to devote to creating an executive news briefing every day, they may not have the right resources to pull information from across the industries that are most relevant to your organisation – or the expertise to spot key news items quickly or add the necessary context.
How Outsourcing Creates a Win-Win
Given the time and skills required to support what many executives have come to rely on to inform day-to-day business decisions, many comms team leaders choose to outsource their executive briefings to an external partner. Consider the following time- and cost-saving benefits of using a trusted partner who specialises in providing customised industry intelligence and updates:
Focused & Reliable Delivery: When you're working in-house with other responsibilities, it's easy to get distracted when other, high priority "fire drills" emerge. Working with an external partner ensures you can count on delivery of your news briefings every day, "rain or shine."
Dedicated Labour: No more asking staff to work outside their normal working hours or job scope. An external vendor means there's always a devoted team working around the clock to sort through the full firehose of news on your organisation and industry and deliver only the news you need to start your day – every day.
Expert Judgment: One of the biggest reasons leading organisations choose to outsource their briefings is for the confidence in knowing they're getting the news that matters most for them. The Cision Insights team has industry experts on hand who take the time to understand each organisation's unique goals and synthesize the news down to what matters most for that client in terms of both daily operations and future strategy.
Context and Impact:

Beyond just presenting a series of clips, Cision Insights

 has a dedicated team of analysts on hand to write custom summaries of the relevant news, delivering a final briefing that is immensely readable and rich in insight.
Broader Access to Information: An external partner will have access to a wider variety of news sources, enabling them to pick up stories your team may miss when doing the work manually.
Meanwhile, your team is free to devote their skills and time doing what they do best – building relationships, elevating your brand and managing your brand reputation. It's a win-win situation.
The Human Factor
Outsourcing this task saves your team hours of work they can devote to more personalised PR efforts, plus the impact on morale and retention can be significant.
Consider this: Most communications professionals go into PR for a love of storytelling and campaign strategising – not with the intent to wake up early and assemble news clips.
Outsourcing such work will give your team members room to flourish in their areas of expertise (in addition to providing a superior deliverable), greatly improving job satisfaction – and saving your organisation the high cost of turnover.
Calculating the Costs
In terms of the hard numbers behind these costs, there is no "one-size-fits-all" dollar value that will apply to every organisation. The bottom-line impact will ultimately depend on a number of factors. Consider the following example:
Say you have a staff member primarily focusing on this endeavour – which involves everything from gathering news clips, to identifying the most relevant items to consolidating the news items and packaging them into executive-ready communications. There will naturally be a salary cost associated with recuriting this employee.
Even if the number doesn't make you blink an eye, keep in mind that you also have the cost of recruiting, hiring and onboarding an employee, plus it doesn't account for the complexity of tasks required for the job (and the more advanced the skill set you need, the higher the salary will need to be).
When building in time for senior people to oversee the deliverables, respond to executive questions and manage the schedule when the dedicated staffer is out, your spend on internal resources can rise quickly.
Finding the Right Solution for Your Team
While actual numbers will vary for each organisation, the need to factor in time and productivity costs is universal. How these costs compare to the bottom line impact of investing in an external briefings team will depend on your organisation's needs and, of course, who you choose to partner with.
We recommend conducting your own analysis, using the above example as a framework, to see how investing in an external briefings partner could benefit your team. In our experience working with organisations of all sizes and across all industries, most clients find the benefits far outweigh any costs. Not to mention that our briefings are highly customisable to accommodate any budget and any level of need.
If you're ready to do an assessment of Cision's executive briefings, we're more than happy to talk. Schedule a consultation today and request a custom briefing sample.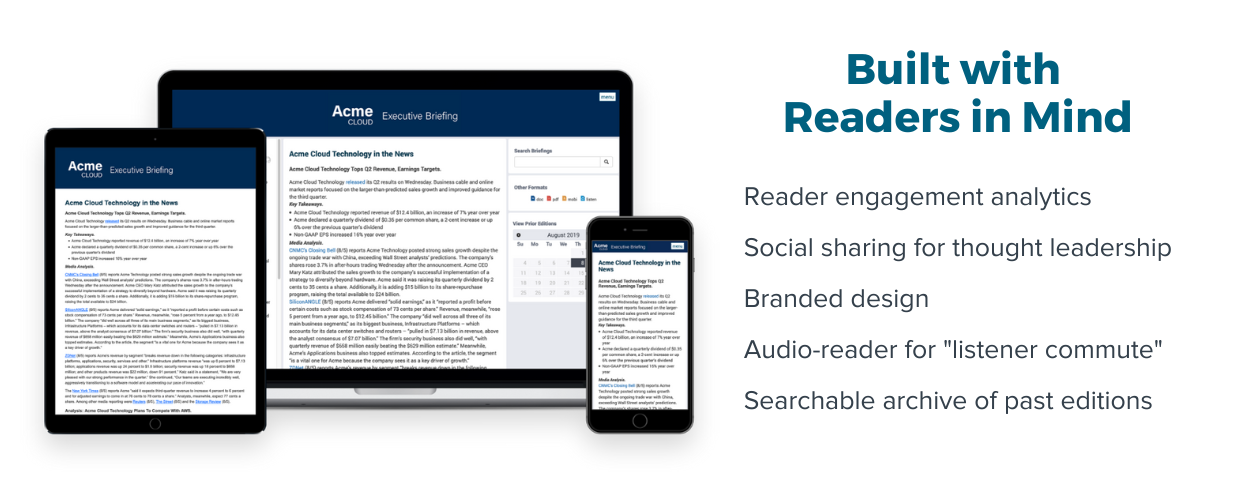 Learn More. Do More. demo new
PR Tips, Case Studies, and Product Updates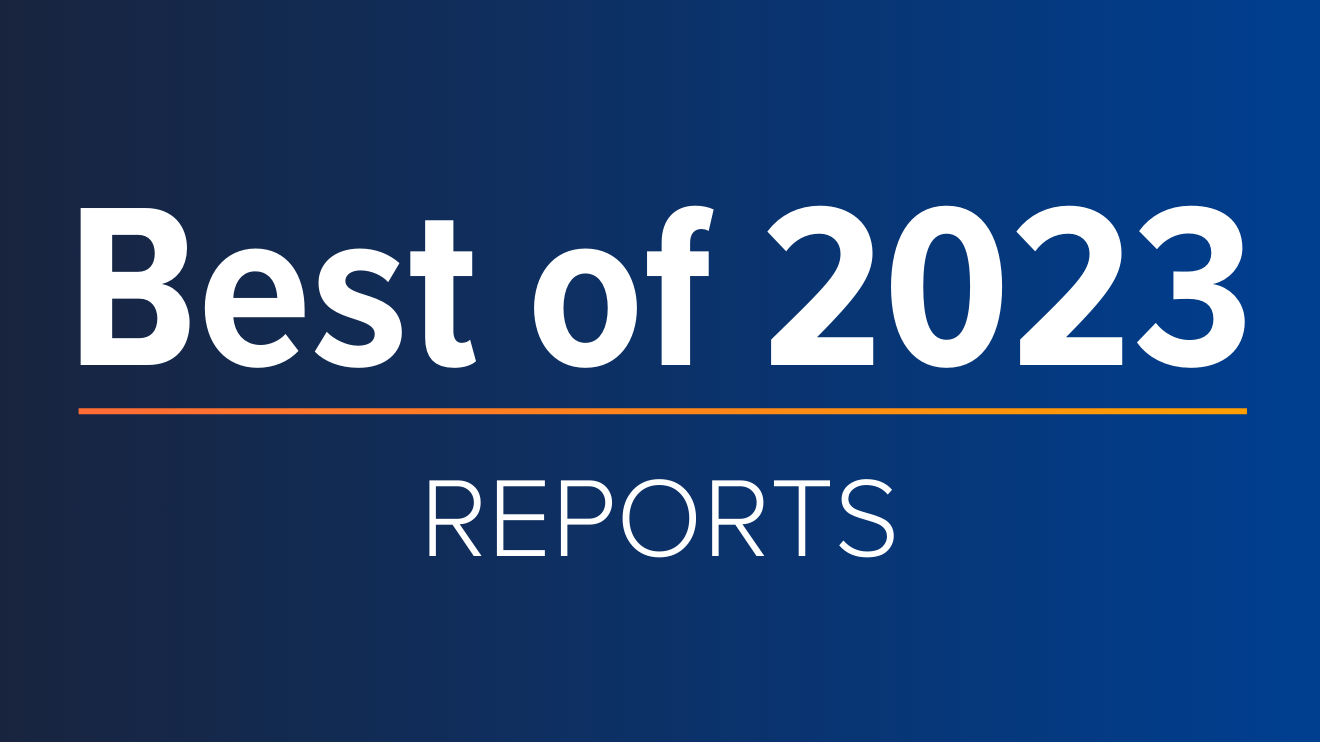 White Papers
ICYMI: Cision's Top Guides & Reports of 2023
With 2023 coming to a close and a new year rapidly approaching, now is the perfect time to reflect on the past year, lessons learned – and start setting the stage for a successful 2024. In the always-on, ever-evolving PR and comms industry, staying...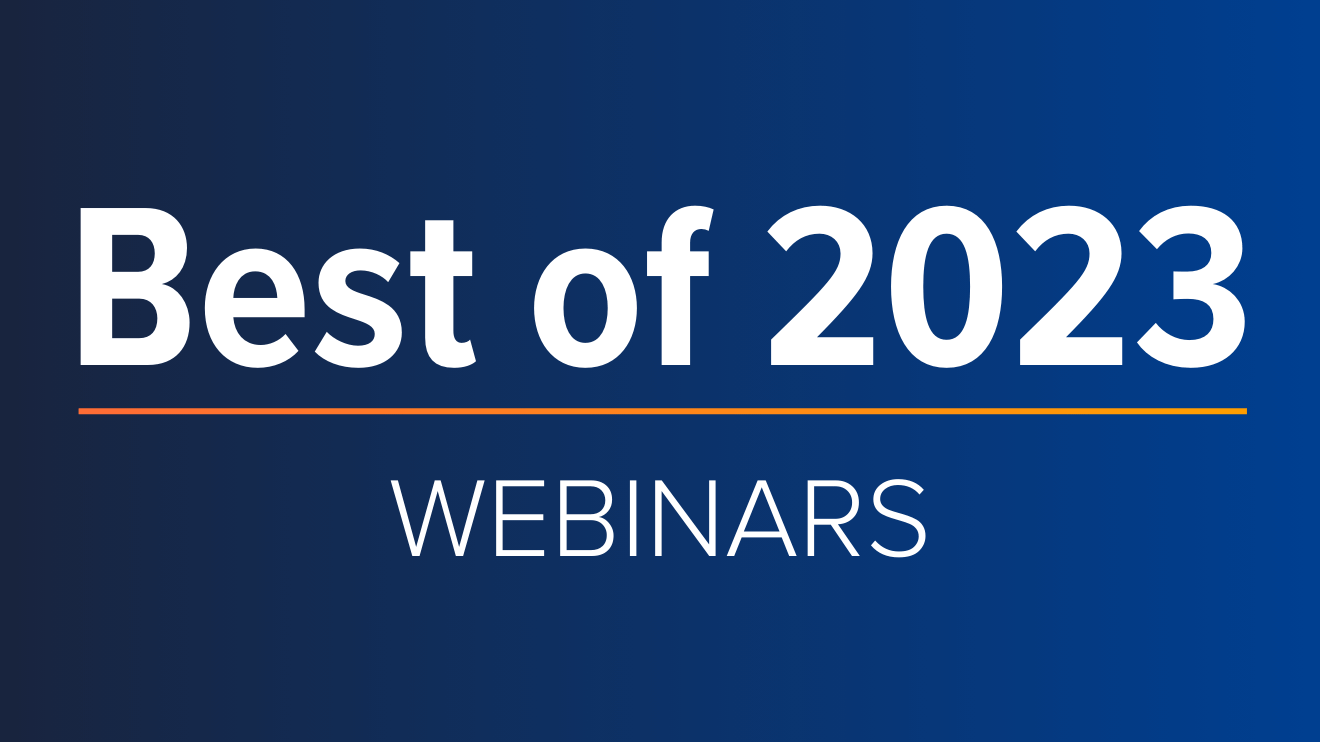 Webinars & Events
ICYMI: Cision's Top 5 Webinars of 2023
The end of the year is just around the corner, which means time to start building strategic plans, setting priorities, establishing goals and ultimately ensuring everything is ready and in place for success in the year ahead. One great way to make...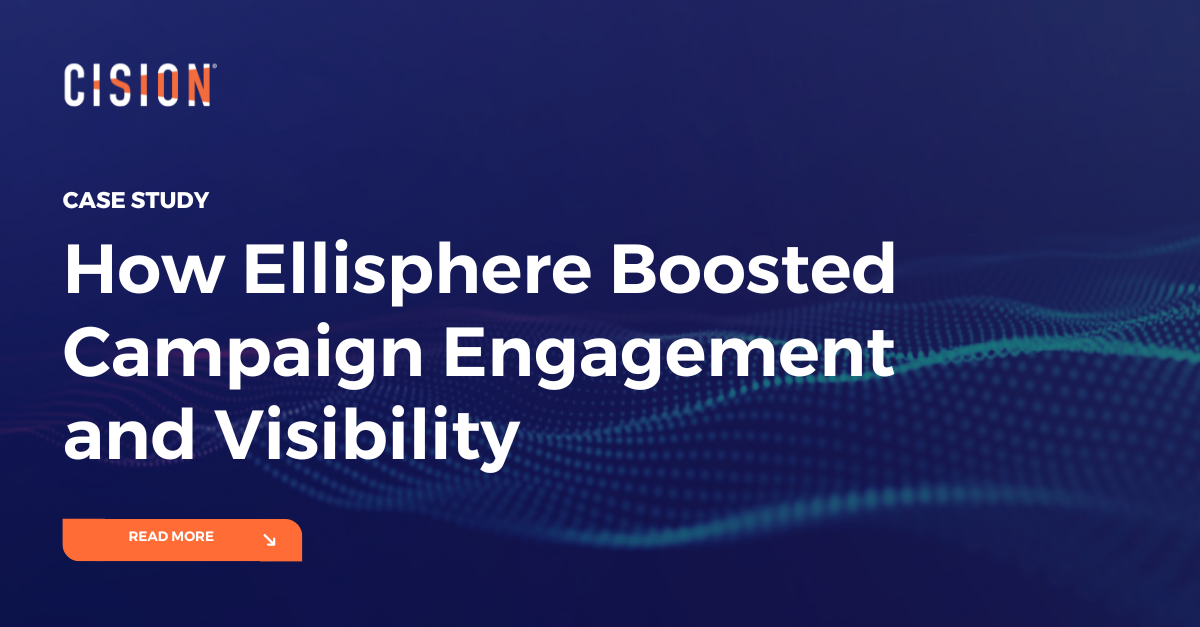 Success Stories
How Ellisphere Boosted Campaign Engagement and Visibility
Find out how Ellisphere increased engagement on their campaign content by up to 48% using our Multichannel News Releases and Guaranteed Paid Placement.