The cost-of-living crisis has hit UK consumers hard in 2022. The average annual grocery bill is forecast to rise by more than £450, petrol and diesel fuel prices have reached record highs of £191.53-per-litre and £199.05 respectively, and subscription hikes for streaming platforms like Netflix and Prime Video have customers querying which services to keep and which to cancel.
However, one area that's dominated discussion is the soaring price of energy bills. With wholesale gas prices increasing and Russia cutting flows on the Nord Stream pipeline to Europe, the cost is being passed onto the consumer – so much so, in fact, that recent analysis from BFY Group has claimed that average energy bills will rise by £500 per consumer in January. After several years of the Ofgem energy price cap hovering around the £1,000 mark, this April saw the rate hit £2,017, which will surge to £3,420 in October before reaching £3,850 in January 2023.
But how exactly have UK consumers been reacting to the cost-of-living crisis... and what are their feelings around the dramatic shifts in the energy market? In our recent webinar, Understanding Your Audience: How to Track Changing Consumer Habits, we examined how Audience Insights – using a combination of Google Trends, GWI consumer research and Brandwatch social listening – around key trending topics can be vital in unlocking comms strategy and analysis. Here are some key takeaways from the event, which is available to watch on-demand now.
Consumers saw rising energy bills as an early sign of a crisis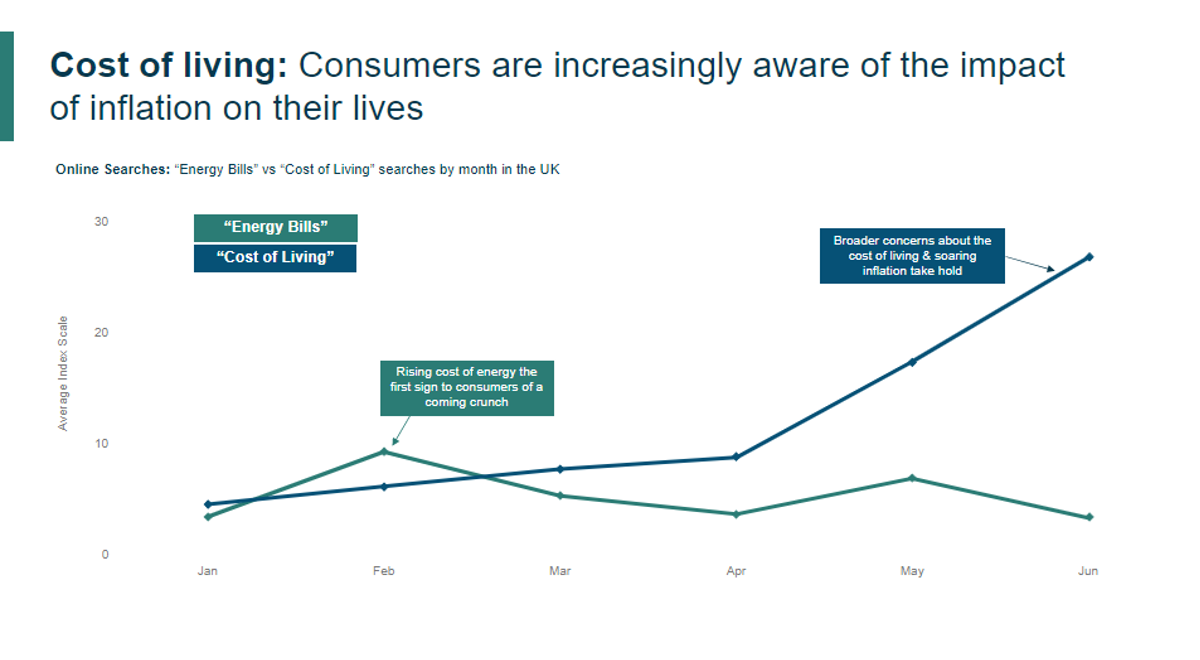 Looking at Google Trends data from the first six months of 2022, it's possible to take a broader look at how the cost-of-living crisis evolved and the role energy prices played in bringing it front-of-mind to the public. 
The above trends data shows a peak in Google searches for "energy bills" in February, right around the time the first major jump in the Ofgem price cap was announced. News of government intervention in the form of a £150 council tax rebate kept energy searches high early in the year, but over time this has become just one element among wider concerns about the cost of living. 
The above data shows that over the remainder of 2022's first six months, searches for "cost of living" have surged to coincide with rising inflation and the uptick in wider domestic bills.
Energy prices matter more to consumers in rural homes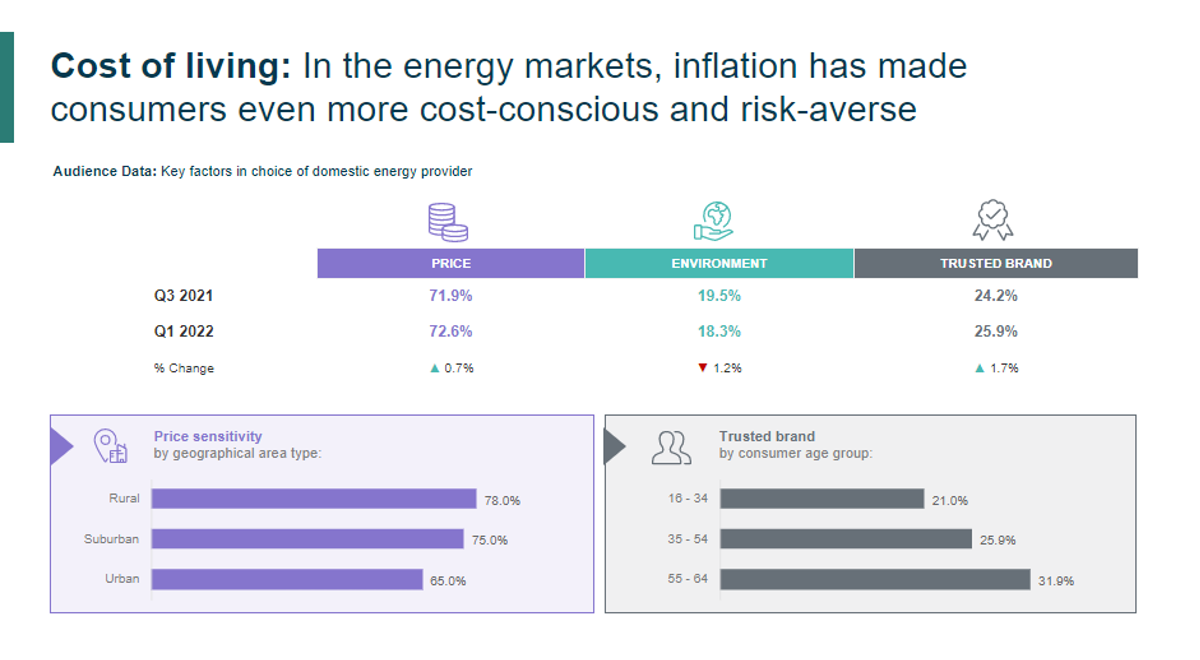 According to audience data sourced from GWI, 43% of consumers said that they have reduced or expect to reduce their spending compared to pre-pandemic in 2020. Meanwhile, 44% noted they will spend the same and 13% revealed they are likely to increase their outgoings. This gives us an added layer of insight that builds on the Google Trends data; not only are people thinking about the cost-of-living, but they are also starting to actively do something about it.
Putting the energy market further under the microscope, GWI's data gives us an overview of the key factors in audiences' choice of domestic supplier. As the chart above shows, price was already something 71.9% of consumers were considering when choosing an energy provider at the end of 2021, but that rose to 72.6% at the start of 2022.
Drill down further into that price-sensitive consumer and a higher proportion of rural energy customers vs suburban or urban are more concerned with the cost of their gas and electricity. With larger homes to heat and less residual warmth from neighbours in semi-detached or terraced properties, this data shows a greater concern from a specific audience when it comes to energy bills.
Social media conversation spikes with political intervention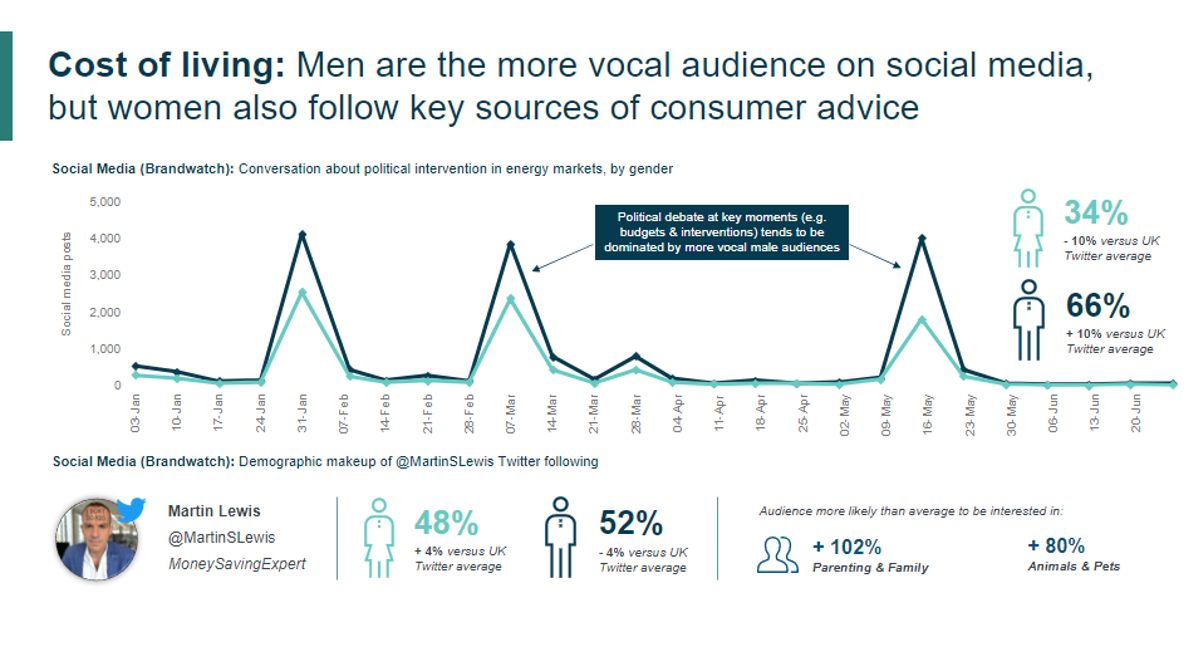 To paint a more complete audience picture, social listening data from Brandwatch can show us what people are vocalising about the cost-of-living crisis as opposed to thinking. In fact, Brandwatch Germany's report, Cost of Living: Changing Consumer Behaviour, identified Twitter and Reddit as the platforms for the majority of cost-of-living discussion. In data taken from 1 January to 31 May 2022, Twitter saw a 63% rise in "cost of living" mentions and Reddit 62%.
Using Brandwatch to view social media conversations around political intervention in the UK energy market (highlighted in the graphic above), we can see that participants on Twitter skew male with 66% compared to 34% female – that's a sharp over-index of 10% on the Twitter average for men and an under-index of 10%. However, this doesn't give us the full story when it comes to targeting an audience that's engaged with the topic of UK energy.
Martin Lewis, founder of MoneySavingExpert and a prominent voice on consumer affairs, has a Twitter following of more than 1.6 million. Using Brandwatch's Social Panels feature to break down Lewis's audience, his follower split of 48% women and 52% men shows an over-index on the former. Despite a more male-dominated conversation about the impact of politics on the energy industry, when it comes to people who are looking for key sources of advice there's a far more balanced gender split.
Energy is only scratching the surface of the cost-of-living crisis. Supermarkets and streaming services are two more examples of businesses passing higher costs onto their customers; and both are explored further in Understanding Your Audience: How to Track Changing Consumer Habits.
You can find out more by watching the webinar on-demand or speaking to one of our consultants about how Cision Insights can reveal a detailed look at your audience.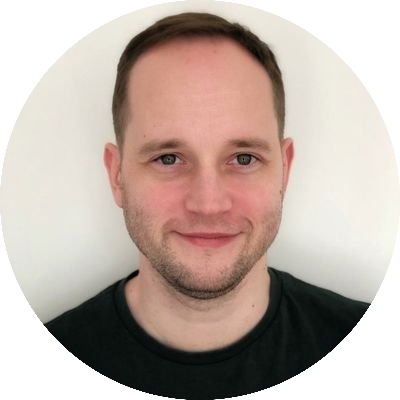 Simon is the Content Marketing Manager at Cision UK. He worked as a journalist for more than a decade, writing on staff and freelance for Hearst, Dennis, Future and Autovia titles before joining Cision in 2022.
Learn More. Do More. demo new
PR Tips, Case Studies, and Product Updates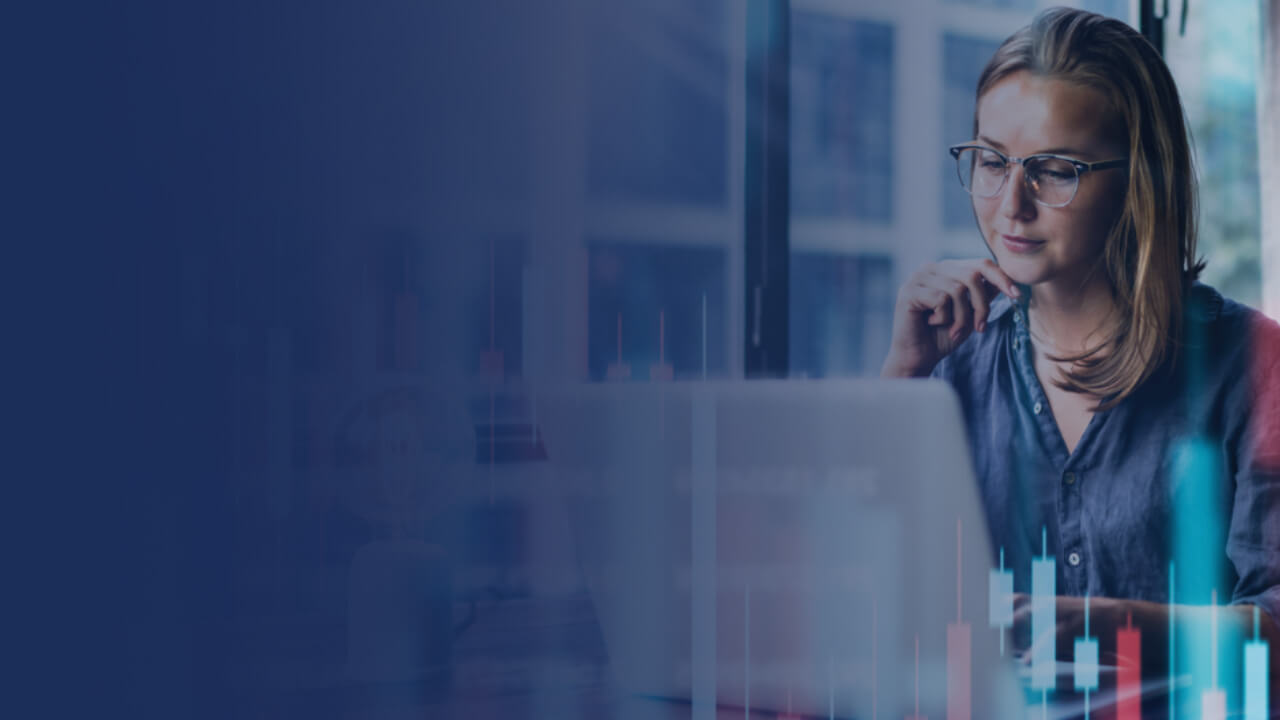 White Papers
Mastering the Pitch: Data-Backed Strategies for Smarter PR
Use data to build better pitches and maximise the impact of your earned media.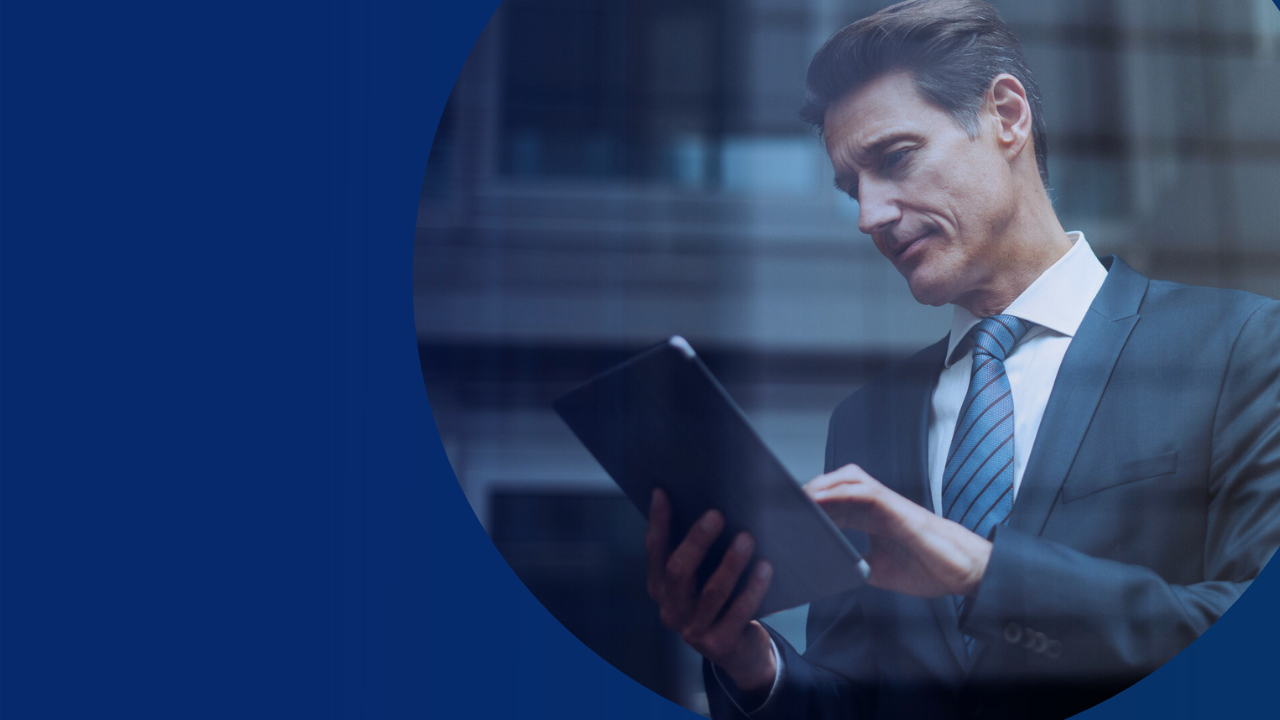 Webinars & Events
[On-Demand Webinar] AI Trends 2024: What's Ahead for PR and Comms?
After a year in which AI has significantly reshaped PR and comms, where does that leave us as we head into 2024? This Cision webinar looks at the AI trends we expect to see emerge in the next year – and how they will have an impact on the PR and...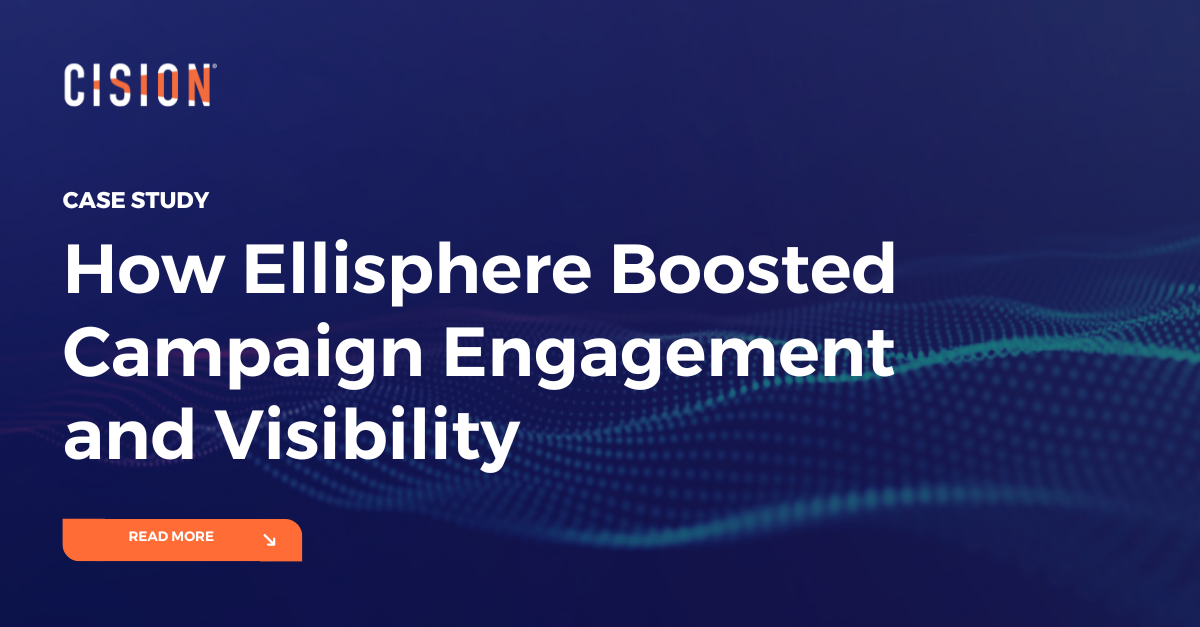 Success Stories
How Ellisphere Boosted Campaign Engagement and Visibility
Find out how Ellisphere increased engagement on their campaign content by up to 48% using our Multichannel News Releases and Guaranteed Paid Placement.