The financial world has been reshaped dramatically by technology in recent years. The rise of digital-first challenger banks like Starling and Monzo have given consumers instant smartphone access to their accounts – all without the need for physical branches and ATMs.
According to Cision Insights data, conversation about digital banking outstripped discussion of branch banking across both traditional and social media for the first time in 2022.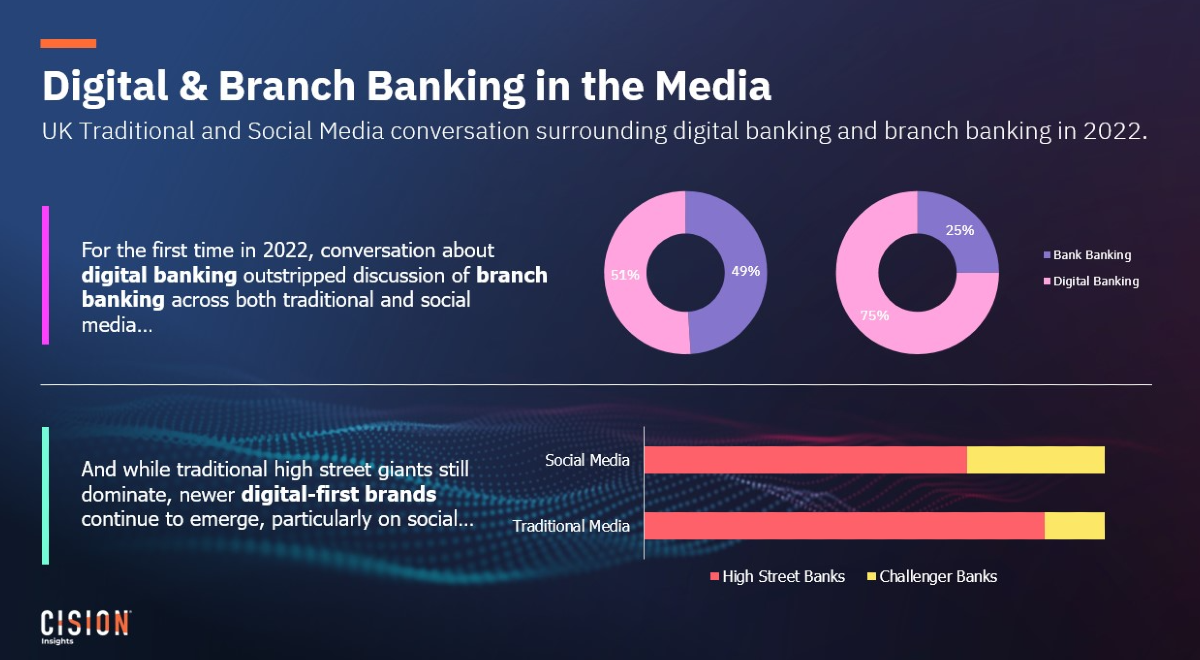 However, no amount of technological innovation can shield the economy from the inevitable cycle of boom and bust. Pressures from Covid, broken supply chains and the war in Ukraine have left the global economy of 2023 in poor health, with central banks and governments doing their best to fight inflation.
A turbulent economy presents significant challenges to communications professionals connected to the sector, particularly as trust wavers in financial markets and institutions. This is something Financial Times business columnist John Gapper has experienced before. Gapper was working in New York during the crash of 2008, just two blocks away from Lehman Brothers and the "epicentre of the financial crisis".  "The taxpayer bailouts at the time really did change attitudes towards banks," Gapper says. "From then on there was this sense of 'is my money safe?'"
Gapper and Cision's Strategic Insights Director Scott Newton recently took part in the live webinar, Consumer Expectations for Banking Services in a Digital World, to discuss our changing relationship with banks and money, and offer insight into the financial landscape of 2023. Here are some takeaways from the conversation.
Navigating New Media
For Gapper, changes in the media world have mimicked what's been happening in banking – despite the emergence of tech-driven disruptors, established names are still standing. "The big media brands [like] The Financial Times, The Times, The Guardian, The New York Times, The Wall Street Journal haven't gone away. There was a feeling at one point that the digital world might sweep us away."
He notes that many media outlets have managed to build their audience and reach digitally. The Financial Times, for example, now boasts more than 1 million combined subscribers across print and digital, well above the 400,000 from its print heyday. "Newspapers and traditional outlets have survived, they've even prospered in digital form, but like banks and financial institutions they are powerful but vulnerable because there are new forms of media," he adds.
One of the biggest changes in media since the 2008 crash is the rapid growth of social media platforms. For financial institutions and consumer brands, it's now far easier to gauge customer feeling online. This, says Gapper, only increases brand vulnerability – they're just one Twitter storm away from a PR crisis. "Somebody can walk into a bank, say they're not happy with the service or go to an airport or supermarket and immediately put it online and complain," he explains. "Everybody faces the sudden upsurge of the activist consumer on social media, everyone can broadcast."
There is also a new breed of specialist journalist who's built a personal brand outside of traditional and social media. Gapper cites MoneySavingExpert founder Martin Lewis as an example of someone reaching a large audience through their own network. Platforms like Substack, Medium and newsletter distribution channels are also new avenues for journalists to create their own following.
"They can provide in-depth, reliable information as a challenge to the old media," says Gapper. "What we're seeing is all sorts of media, sources and information and you have to deal with a wider variety and flow of information when coping with brand impact. All of us exist in a world of noise."
The Rise and Fall of the Crypto Bros
Perhaps the noisiest disruptors within the finance space are those dealing in cryptocurrency. Understandable when the value of one Bitcoin at the start of 2016 was £295.27 compared to the £13,723.22 of early 2023.
However, crypto's volatility, lack of regulation and the environmental damage caused by mining coins has left question marks over its long-term viability. FTX founder Sam Bankman-Fried's arrest and subsequent extradition on charges ranging from wire fraud to money laundering has stirred further controversy around cryptocurrency.
Gapper says of FTX's collapse: "In a traditional world of financial services if your high street bank CEO said that they were going to work from the Bahamas and take their executive team with them, you might be slightly suspicious. But in the world we lived in, this was held out as something new and exciting. People not only accepted the fact they were operating a crypto exchange from an offshore centre, but they thought it was a token of the way they were upending the world of financial services."
Gapper sees Bankman-Fried as "a symbol not of banking but of an entire new financial system". "I think it's going to be tempting for a lot of traditional bankers to have a feeling of schadenfreude about the revolutionaries facing trouble," he says. "What I would say is watch out a little bit. I think some of the challenges that have faced the crypto bros in this new period of financial services are going to start having an impact through to traditional banks and to the digital challengers."
Looking to the future
As traditional branch networks have declined, banks have become less personalised and more tech-centric. Customers ringing through to a branch will often be routed to a call centre, and expected to rely more on their bank's smartphone app. According to Gapper, this works fine in a strong economy but the loss of branches becomes keenly felt in a recession. When customers are experiencing uncertainty, they want to speak to someone at their bank for reassurance and advice. "There will be resentment, unhappiness and unease and that will feed its way through to media coverage," he suggests.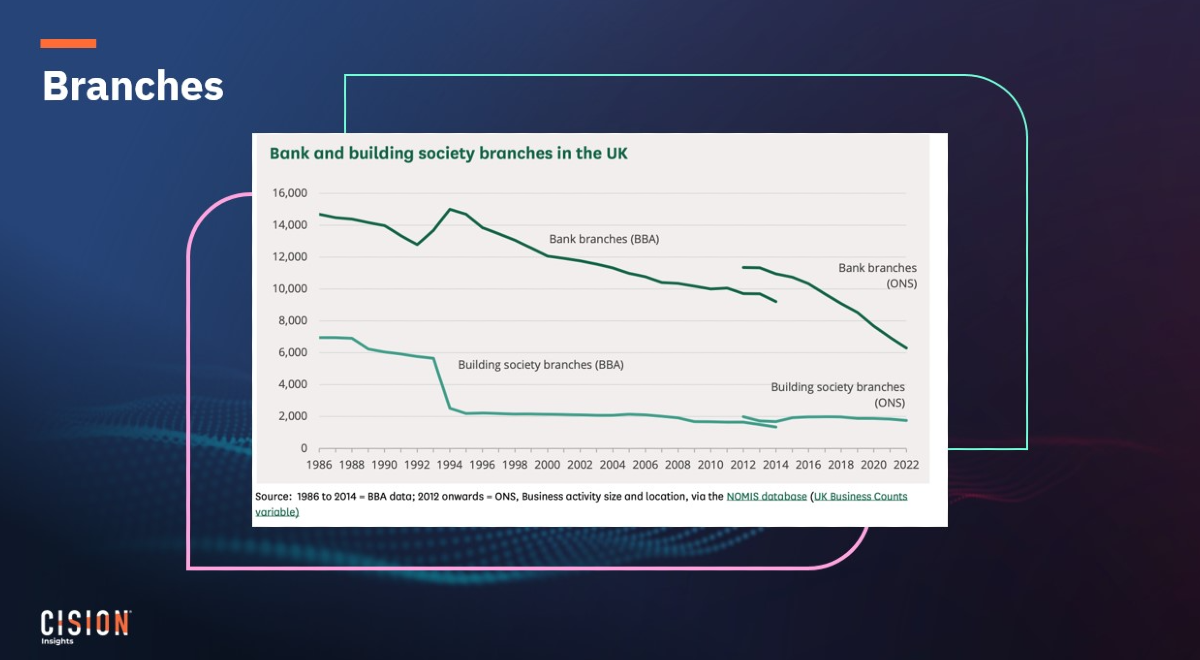 There will be questions for challenger banks, too. Particularly those offering cryptocurrency with small print warnings about the financial risk involved. "How many people read the small print, or admit to reading the small print when they've lost their money?" Gapper asks. He views this as potentially beneficial to traditional banks who've been slow to offer crypto transactions.
"That takes me back to the value people attach to reliability," he says. "What is a reliable financial institution? Not just efficient, not just exciting, what's a reliable one? And I think there's just going to be a swing back to a sense of 'who can I trust?' And the media goes along with that. The media swings from loving the new thing to hating it when something goes wrong.
"I think we are at a pivot point from excess to crunch and to people asking 'why was I allowed to do the things I did? Why did this bank lend me money? Why was I advised to or suggested that I could invest in cryptocurrency?' That's going to be, I think, a painful process for a lot of customers. For the media, it's going to provide a lot of stories."
Ready to see how Cision Insights can help transform your communications strategy? Schedule a consultation with one of our experts today.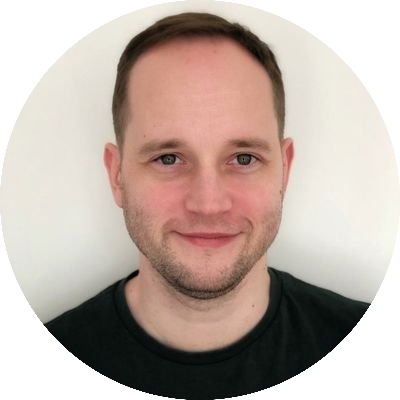 Simon is the Content Marketing Manager at Cision UK. He worked as a journalist for more than a decade, writing on staff and freelance for Hearst, Dennis, Future and Autovia titles before joining Cision in 2022.
Learn More. Do More. demo new
PR Tips, Case Studies, and Product Updates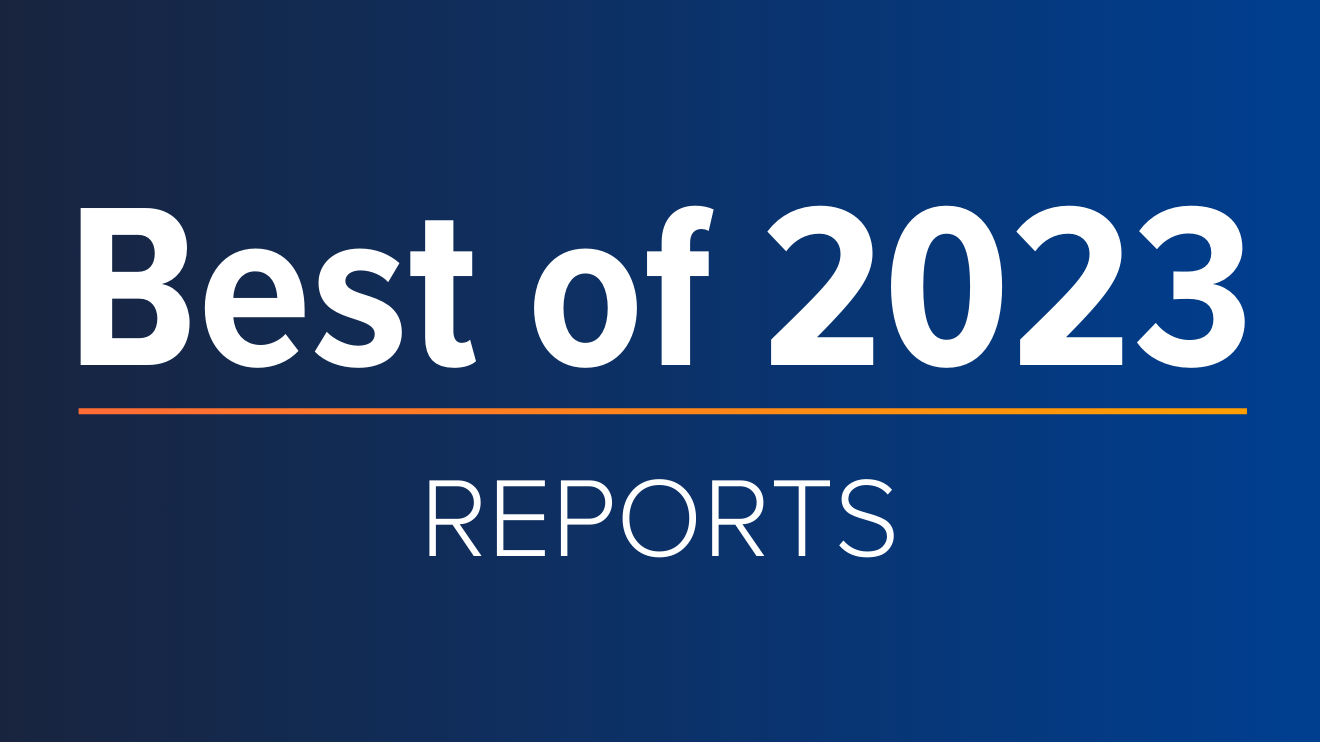 White Papers
ICYMI: Cision's Top Guides & Reports of 2023
With 2023 coming to a close and a new year rapidly approaching, now is the perfect time to reflect on the past year, lessons learned – and start setting the stage for a successful 2024. In the always-on, ever-evolving PR and comms industry, staying...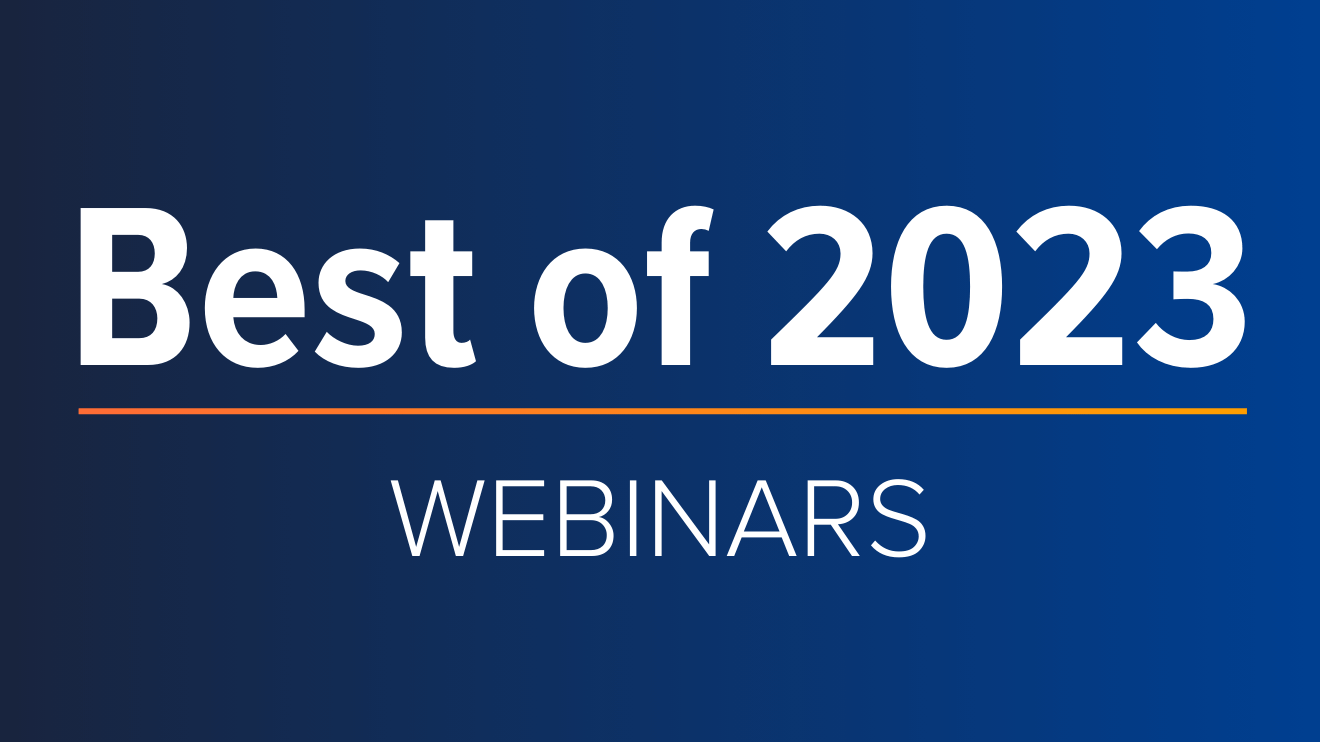 Webinars & Events
ICYMI: Cision's Top 5 Webinars of 2023
The end of the year is just around the corner, which means time to start building strategic plans, setting priorities, establishing goals and ultimately ensuring everything is ready and in place for success in the year ahead. One great way to make...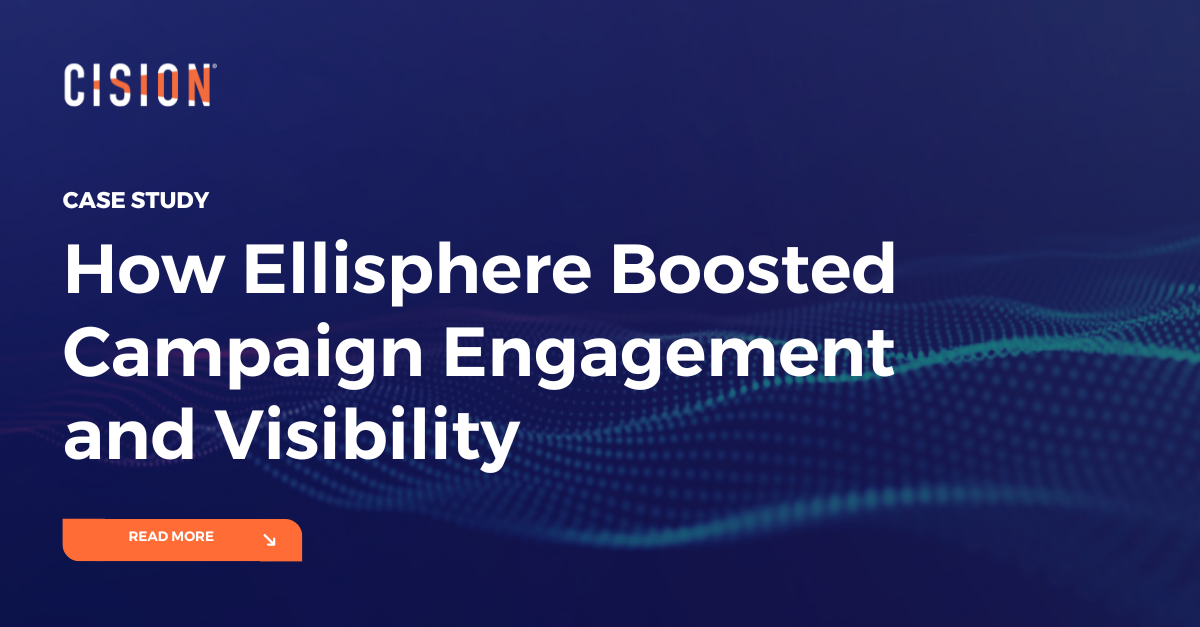 Success Stories
How Ellisphere Boosted Campaign Engagement and Visibility
Find out how Ellisphere increased engagement on their campaign content by up to 48% using our Multichannel News Releases and Guaranteed Paid Placement.