The world of PR and communications is, like many industries, rapidly changing, powered by technology that's reshaping how the industry operates (and how success is measured). For the sixth year in a row, Cision and PRWeek have joined forces for the Global Comms Report, a deep-dive into the biggest challenges and opportunities for communicators right now.
440 industry professionals across 10 countries took part in the survey to give a snapshot of how the industry is shifting. Yet across the regions covered (United States, Europe and APAC) there are subtle differences and nuances around how communicators responded.
So what can we learn from the European data? And how does it compare to the global numbers? We sifted through the charts to get a sense of the challenges comms professionals face – and unearth valuable insight on the industry in 2023.
1. There's Optimism About Comms' Relationship With the C-Suite
Comms' position with the C-Suite has been changing over time – 47% of those surveyed now report to the CEO directly, while 30% report to the head of marketing. The need to communicate through the Covid pandemic helped solidify the comms-C-Suite relationship, and it appears this has continued into the new normal.
Globally, 58% of those surveyed said they were optimistic about their relationship with the C-Suite, while 19% said they were pessimistic. In Europe, the optimistic feeling is similar, with 57% of those surveyed positive about the relationship they'd forged. However, this is balanced by a 30% pessimistic figure, higher than the US's 9% and APAC's 21%.
It's worth noting that the Global Comms Report survey was conducted in autumn 2022, during a time of global uncertainty. In the UK, for instance, this coincided with the cost of living crisis being exacerbated by a mini-budget that sent mortgage rates soaring and slashed the value of the pound against the dollar. Even with anxiety and pessimism front-of-mind, though, communicators were telling a different story.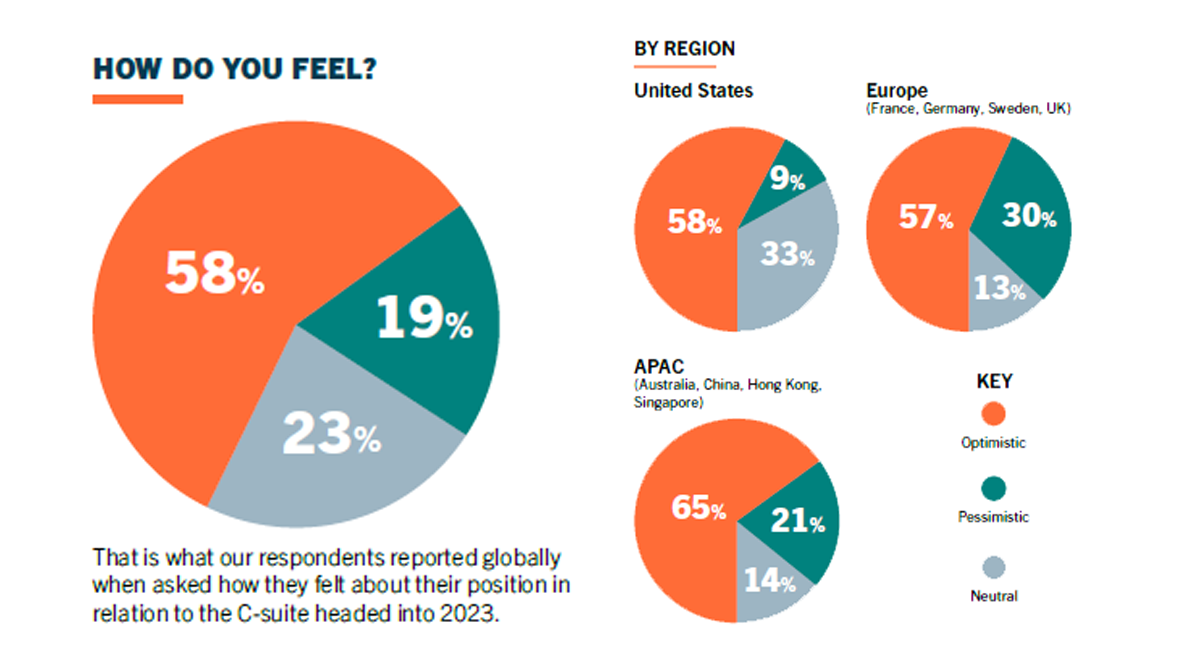 2. Working With Influencers is Challenging (But Data Could be the Solution)
What is the biggest challenge with influencers? According to 41% of European respondents it's finding the right one to work with – that's a higher concern than any other region (the United States sits at 31% and APAC 33%).
Pinpointing the right influencers with whom brands should partner with can't be left to gut instinct anymore. Who qualifies as an influencer? And how do we define how effective they really are? This is where data and analytics can play a key role. "The influencer space has become such a vast universe, that it really takes science and data to help identify the right one," says Danone's VP Communications Gemma Hart.
According to the Global Comms Report 79% of respondents answer affirmatively when asked if communications is relying on data and analytics more now than it was this time last year (that figure across European respondents is 78%).

When asked to pick three functions they would value the most in an "ideal suite of tools", it's telling that "identify and communicate with influencers" sat in the top three, chosen at 38% globally, along with "measure impact of earned campaigns" (48%) and "ideate and create compelling content" (43%).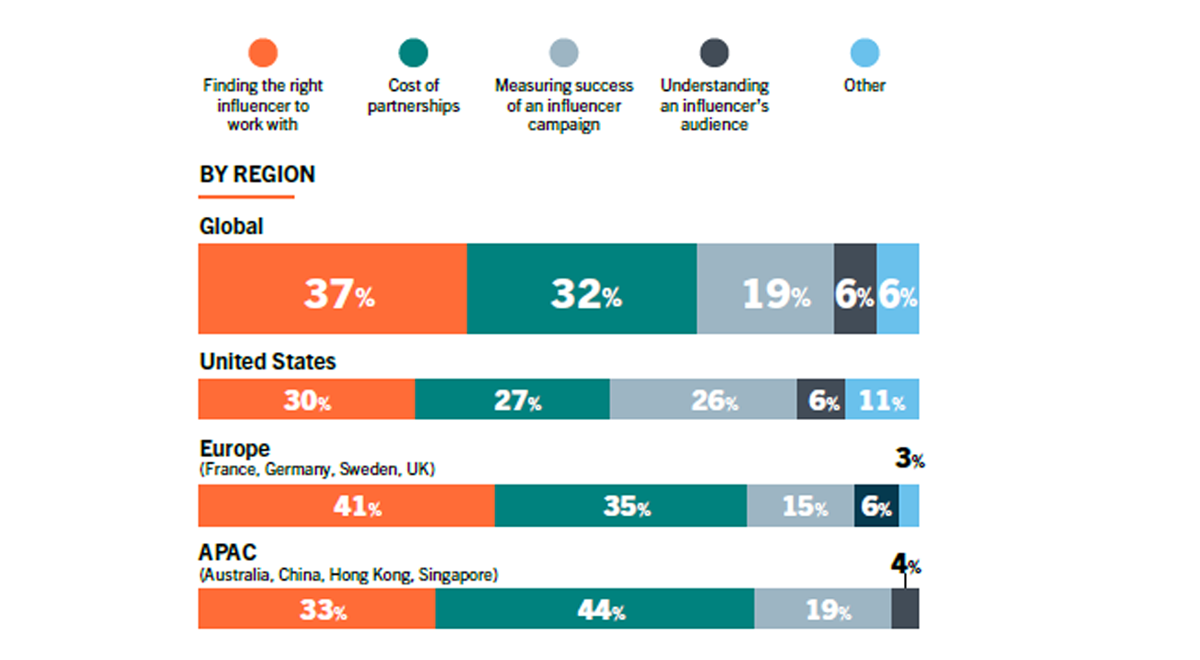 3. Celebrities Are the Most Desirable Influencers
Do celebrities still have the power to persuade? This year's Global Comms Report presents some intriguing results from a European perspective. Of those surveyed, 51% placed celebrities in the three most effective influencers at impacting consumer behaviour, ahead of everyday consumers (43%) and bloggers and employees (tied at 37%)
This number is lower than the 69% in APAC who prioritised influencers, but higher than the US's 22%. Trust in celebrities as influencers may still be solid when it comes to Europe, but the same can't be said for the press. 24% of survey participants named mainstream journalists, below the 35% figure for the US and 31% for APAC.
A further breakdown of the influencers by region can be seen below. (Note: Percentages in parentheses below indicate how many respondents selected that influencer type as their number one choice.).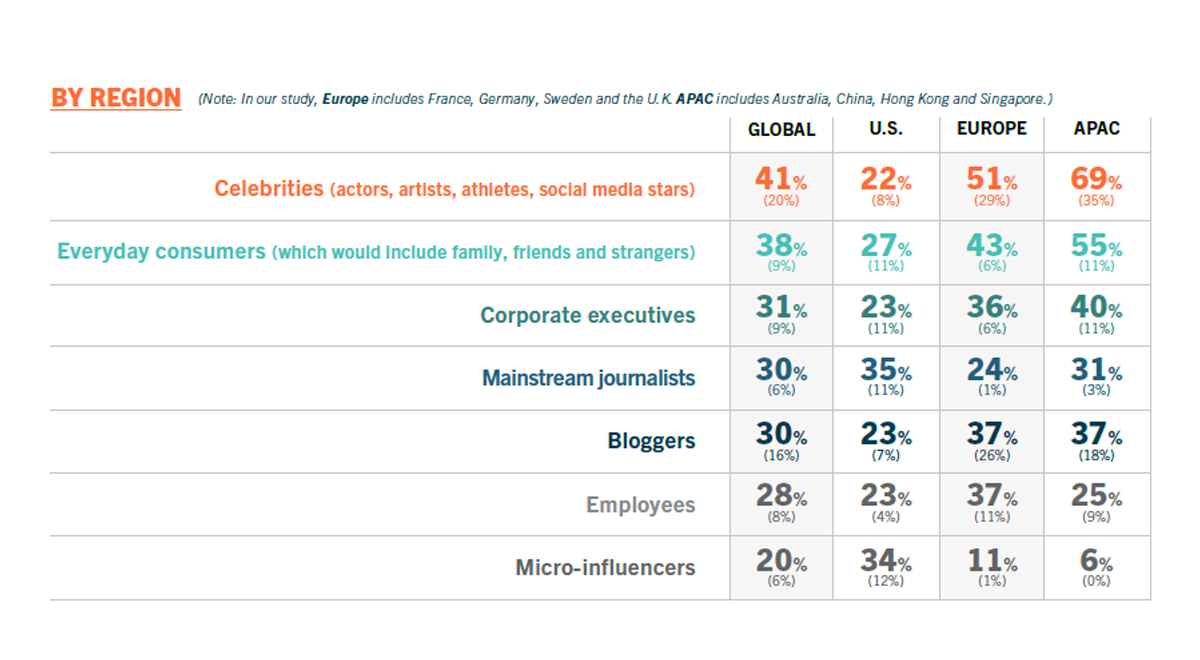 4. Facebook and Instagram Are (Still) Europe's Social Channels of Choice
Decisions about which social media channels to prioritise are hugely important for a brand's overall strategy. For comms teams with limited resources, it's particularly key to target platforms that will resonate the most with their intended audience.
In the Global Comms Report, respondents were asked to choose the four platforms (out of 10) they deem most valuable to their broader content strategy. In Europe, Facebook was named by 70% in the top four, with Instagram close behind on 65%. It's worth noting LinkedIn and TikTok are becoming more prominent in every region surveyed, but in Europe they are joined by growing platforms Pinterest, Reddit and WhatsApp.
However, compared to 2021, both YouTube (from 39% to 26%) and Twitter (from 37% to 32%) saw a decrease in Europe. The rise of TikTok and short-form video may have accounted for the YouTube drop, while Twitter's decline in Europe (and across all regions) could be a result of the platform's turbulence in the wake of a recent change of ownership.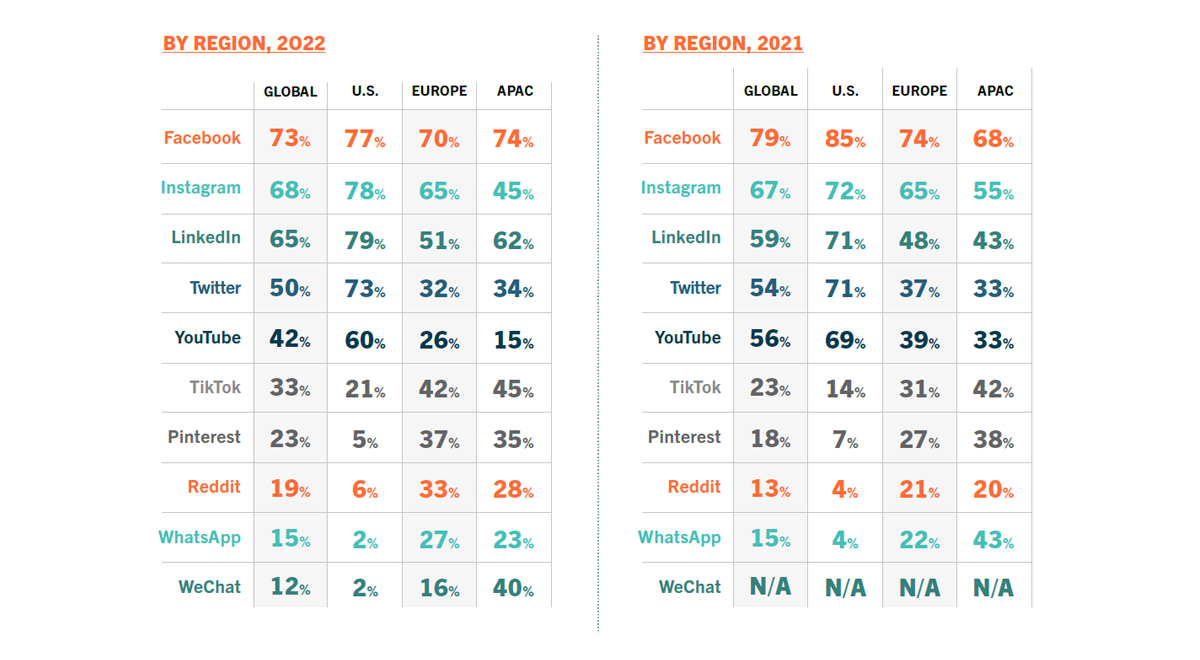 5. Paid Leads Europe in the PESO Mix
Globally more media budget is being allocated to earned media content than any other. However, that's not the case in Europe and APAC where paid gets the most budget – both regions saw 31% name paid as the biggest priority (against 25% in the US), and Europe's 22% for earned is outdone by 38% for the US.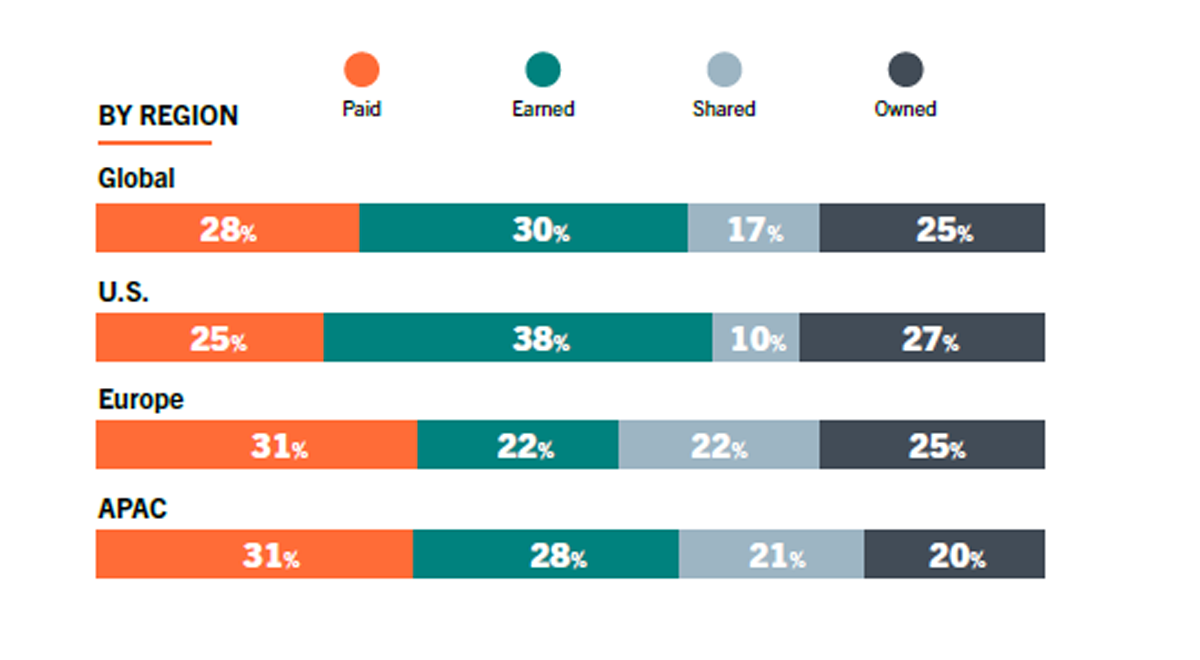 rBut what about the specific type of content communicators are using to reach audiences? When respondents were given 14 options and asked to rate the most effective ones at influencing stakeholder behaviour, three notably stood out (percentages indicate how many respondents placed that option among their top three):
Brand website – 50%
Brand social media – 45%
Brand video – 37%
In the Europe-specific results, though, there was a notable difference in the third slot. The branded podcast/other audio option took the place of brand video, showing that the rise of podcasts and audio storytelling is becoming more prominent in the eyes of communicators. This tallies with recent data from Statista, which says podcast advertising spend in Europe has more than doubled since 2020 and is likely to surpass £170m this year..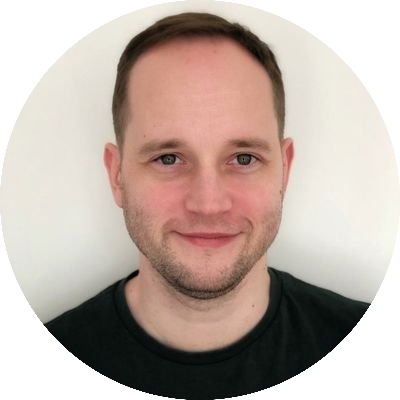 Simon is the Content Marketing Manager at Cision UK. He worked as a journalist for more than a decade, writing on staff and freelance for Hearst, Dennis, Future and Autovia titles before joining Cision in 2022.
Learn More. Do More. demo new
PR Tips, Case Studies, and Product Updates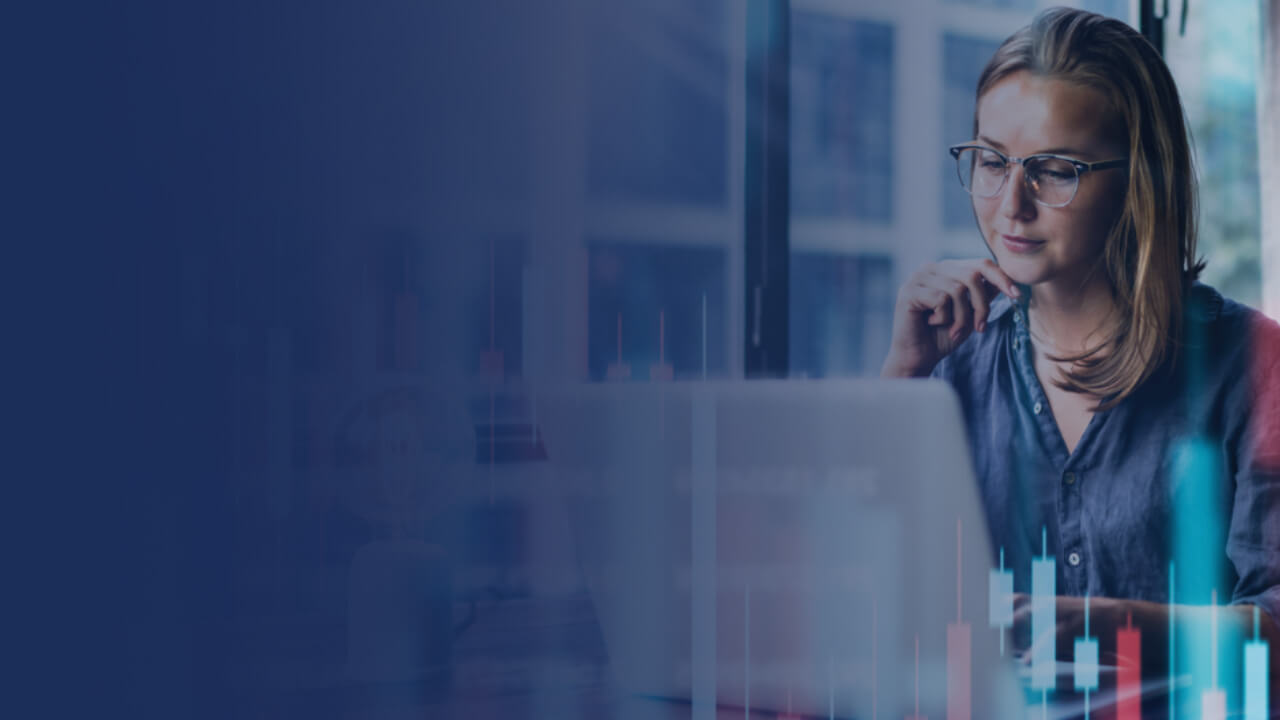 White Papers
Mastering the Pitch: Data-Backed Strategies for Smarter PR
Use data to build better pitches and maximise the impact of your earned media.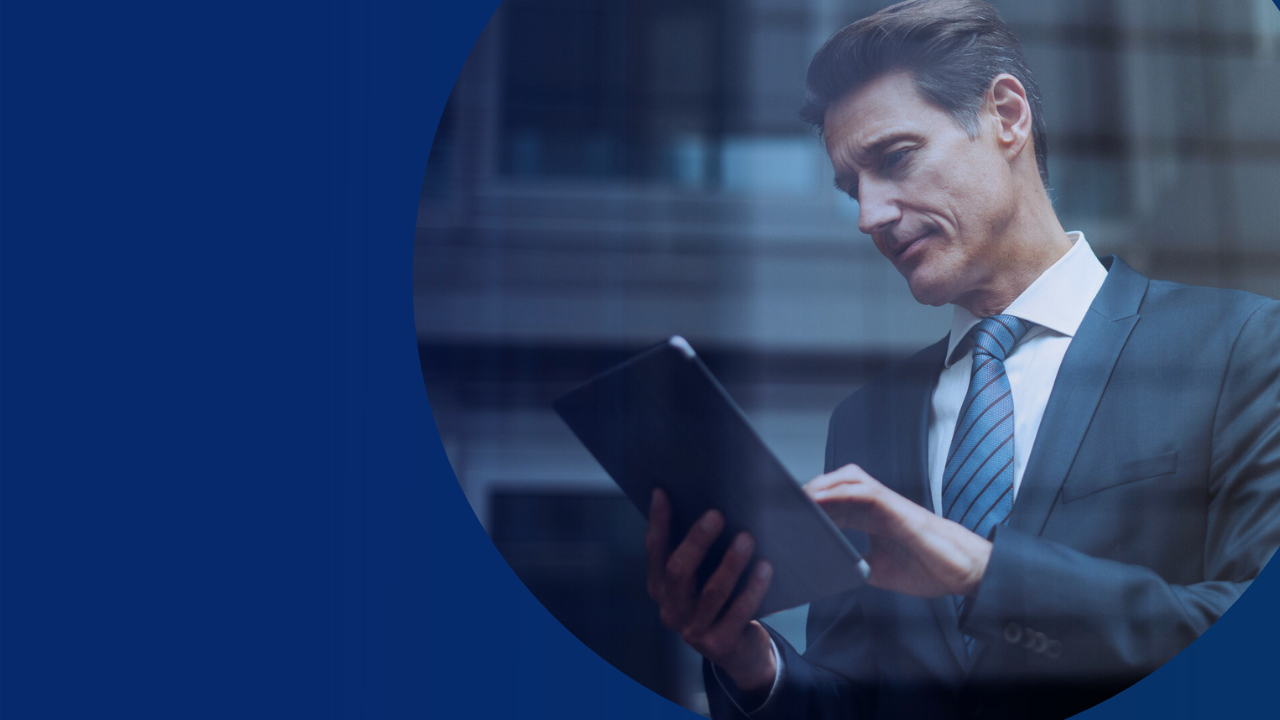 Webinars & Events
[On-Demand Webinar] AI Trends 2024: What's Ahead for PR and Comms?
After a year in which AI has significantly reshaped PR and comms, where does that leave us as we head into 2024? This Cision webinar looks at the AI trends we expect to see emerge in the next year – and how they will have an impact on the PR and...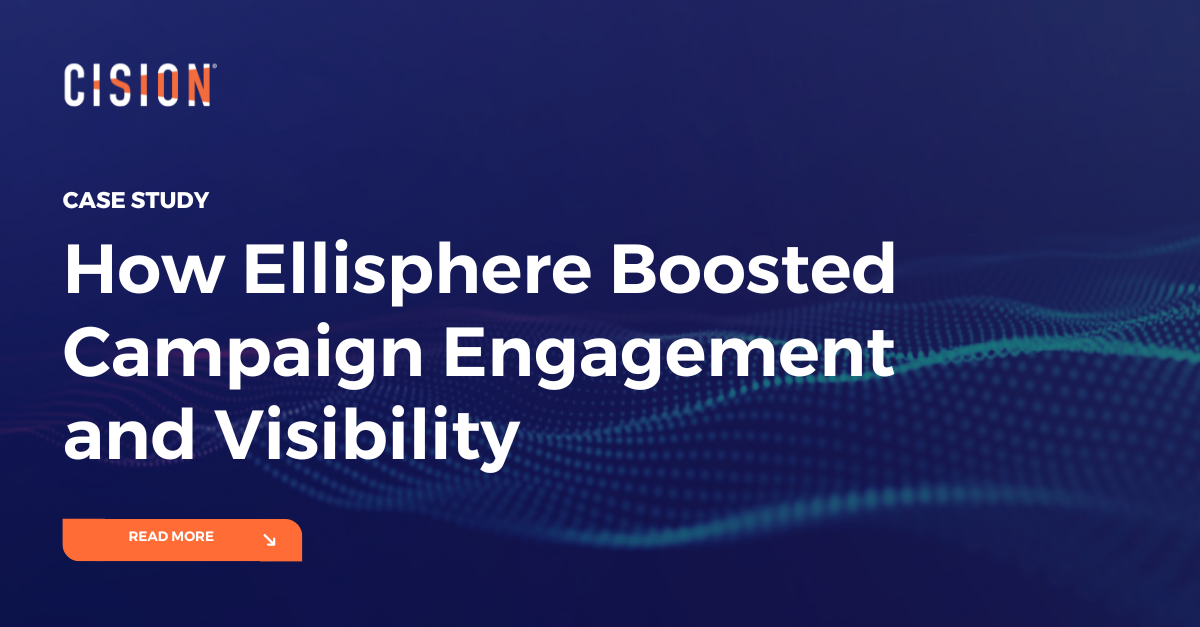 Success Stories
How Ellisphere Boosted Campaign Engagement and Visibility
Find out how Ellisphere increased engagement on their campaign content by up to 48% using our Multichannel News Releases and Guaranteed Paid Placement.