This piece originally appeared on PR News and is republished here with permission.
Most PR practitioners conflate generating a return on PR investment with proving PR value. The two, however, hold very different meanings. ROI refers to a quantifiable financial return. Value is a subjective measure that changes from one organization to the next. 
PR-ROI comes in three forms: connecting PR with sales (the sexy one); avoiding catastrophic cost (the big one); and efficiency (the most accessible). In this column we'll focus on PR efficiency as a contributor to ROI. We'll use a case study from software company Adobe. 

Objectives
For years, Adobe's executive team held that a higher volume of coverage across all media drove better business results than a lower volume of high-quality coverage in target media. Adobe communicators explored this perception through a data-informed, fact-based communication analysis. Objectives included: 
Assess Adobe's relative performance against competition 
Measure key reputation attributes 
Provide Share of Voice on the quantity and quality of coverage vs the competition 
Uncover opportunities to reinforce Adobe's advantage and mitigate competitor's advantage 
Simplify monitoring and evaluation through consolidation, integration and research-based decision-making 

Strategy 
To achieve these objectives, Adobe implemented a media insights framework applying traditional and social media analysis methods. Data science methods supplemented the effort. 
Audience and media segmentation research 
Hybrid automated/human media analyses 
Attribution analysis 
Research of Adobe's Dr. Jennifer Bruce, a PRNEWS Measurement Hall of Fame honoree, confirmed that a core set of media outlets delivered the greatest ROI. 
Rather than seeking to generate the highest volume of stories, the research revealed enhanced measures that combined outputs, outtakes and behavioral outcomes: 
Size of target C-suite audience reached vs. the competition (outputs) 
Presence of Adobe's unique product attributes vs. the competition and generic attributes (outputs) 
Degree of target C-suite audience social engagement and amplification vs. the competition (outtakes) 
Number of target C-Suite visits from earned media to Adobe's website using advanced attribution analysis (behavioral outcomes) 
The research revealed that 65% of the original target media list of 3,000 outlets generated only one story in the past year. A research-based variation of 550 media generated 76% of all quality coverage. With these findings, executives agreed to focus media outreach and measurement on media that delivered optimal results. 

Tactics 
The Adobe communications team developed and executed plans to drive the desired results: 
Targeting analysis identified four C-level purchase decision-maker audiences: CIOs, CMOs, CDOs and CFOs 
Analysis of C-level media consumption reduced the proactive target list from 3,000 to 550 and then to 150 
Research identified the best proactive messaging opportunities as being: 1) importance to C-suite buyers and 2) unique to Adobe, thereby avoiding generic attributes that could help the competition 
Communication delivered customer-success stories to more credibly convey unique attributes, such as peer-to-peer endorsements among C-suite executives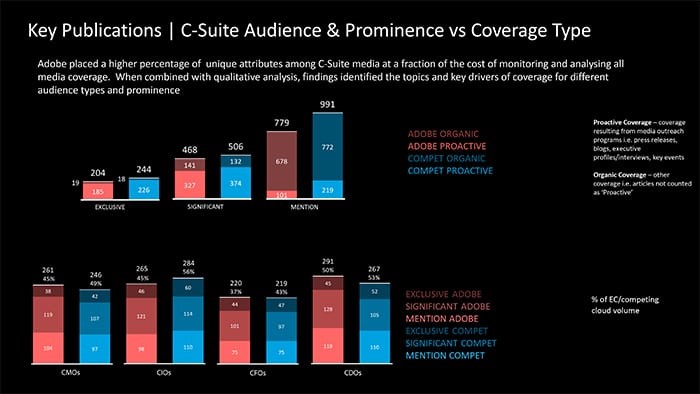 While reducing their media focus dramatically and achieving related efficiencies, Adobe generated a fair share of overall coverage at a fraction of the cost. What's more, Adobe generated more high-quality coverage among their primary target audiences: Chief Marketing Officers and Chief Design Officers. 
To uncover efficiencies, Adobe consolidated monitoring and analysis with a single source for international content aggregation, analysis, reporting, attribution and research-based consultation. The research and analysis team uncovered opportunities to drive better decision-making: 
Employed attribution analysis to identify media with the highest C-suite penetration based on job title, industry, company size and media-consumption patterns 
Developed keyword taxonomies representing each topic to ensure a balanced approach for benchmarking 
Identified relevant and specific product dictionaries, for broad topics like innovation and leadership 
Measured proactive and organic coverage for Adobe and the competition and what triggered the coverage 

Evaluation of Success/ROI/Results 
When given a choice between quantity of media coverage versus quality of business engagement, the executives opted for higher-level C-suite engagement. 
Adobe consolidated a number of media-monitoring services into a single source after determining that the chosen firm captured 82% of all content, while other sources combined captured only 37%. Through a single global methodology, Adobe reduced the number of research reports from 900+ to uncover time and cost savings of 25%. The centralized approach to monitoring and analysis reduced related costs and reporting turnaround times 67%. 
The new approach formed the foundation for more fully integrated marketing and communication decisions. It enables correlation analysis between news coverage and internal data, such as Adobe.com visits, trials and purchase behavior. Adobe communicators now know, for example, the degree to which media type leads to increases in website traffic and trials, and which do not. Return on investment continues to improve. 
By revolutionizing its media monitoring and analysis framework, Adobe quantified the power of PR to empower the enterprise as forcefully as any other marketing channel. As a result, Adobe executives control the levers to guide the company to even greater success while PR's contribution to business results emerged as an important business driver. 
Mark Weiner is the Chief Insights Officer for Cision, a member of the Arthur Page Society, an advisor for The University of Florida Public Relations Advisory Council, and a trustee for the Institute for Public Relations for which he also chairs the Commission on Measurement and Evaluation. Mark is the 2018 recipient of the Institute for Public Relations Jack Felton Medal for Lifetime Achievement.
Get the Data, Tools and Expertise Essential to Understanding Your Brand
Want to know how Cision can show you the value of your efforts?