CEH Case Study
Introduction to CEH

The Center for Environmental Health is a national nonprofit organisation that works with communities, consumers, workers, the government and the private sector to protect people from toxic chemicals by demanding and supporting business practices that are safe for public health and the environment.

With Cision, the Center for Environmental Health's PR efforts resulted in 75% more visibility. In this case study you will learn how Cision Communications Cloud helped them secure more press coverage and effectively measure their earned media impact.
CEH Case Study
The Challenge
Prioritising Communications to Support Promotion of Public Health Efforts
Despite the fact that the Center for Environmental Health has been around for more than 25 years, they found themselves struggling to raise awareness of their programmes, educational materials, and advocacy work. Part of the issue was that they originally didn't have a dedicated communications department available to help spearhead consumer- and agency-centric initiatives.
One of the first decisions made by Emily DiFrisco, the newly appointed Senior Director of Communications, was to consult with Cision about potential communications solutions that could help them increase their reach and track the results of their public relations efforts.
CEH had been relying on Excel and spending a lot of time doing manual tasks to keep a record of their media contacts. New efficiencies were necessary to advance the organisation's mission and goals.
Client Perspective
"When we have our press release ready to go, it's so easy to be able to send that e-mail with Comms Cloud and be able to select the audience. We have such varied programs that it's really great to be able to use the Connect database and be able to pitch different journalists and make sure that it's going to the ones who are actually interested in it."
Emily Difrisco, Director of Communications
Center for Environmental Health
CEH Case Study
The Approach
New Communications Leadership Invests in Earned Media Outreach
In a series of stakeholder conversations with Cision, it became clear that the Center for Environmental Health prioritised the ability to develop targeted lists of journalists to contact for news and announcements relevant to their interests and audiences, as well as the ability to track and measure their communications efforts with metrics that matter.
In order to secure more press coverage and thought leadership opportunities, the small but mighty team needed access to easy-to-use tools for discovering useful contacts in media, while managing, executing, and measuring their earned media impact.
To set up the organisation's new communications department for success, CEH decided to go with the Cision Communications Cloud with Monitoring & Analytics and Connect Database.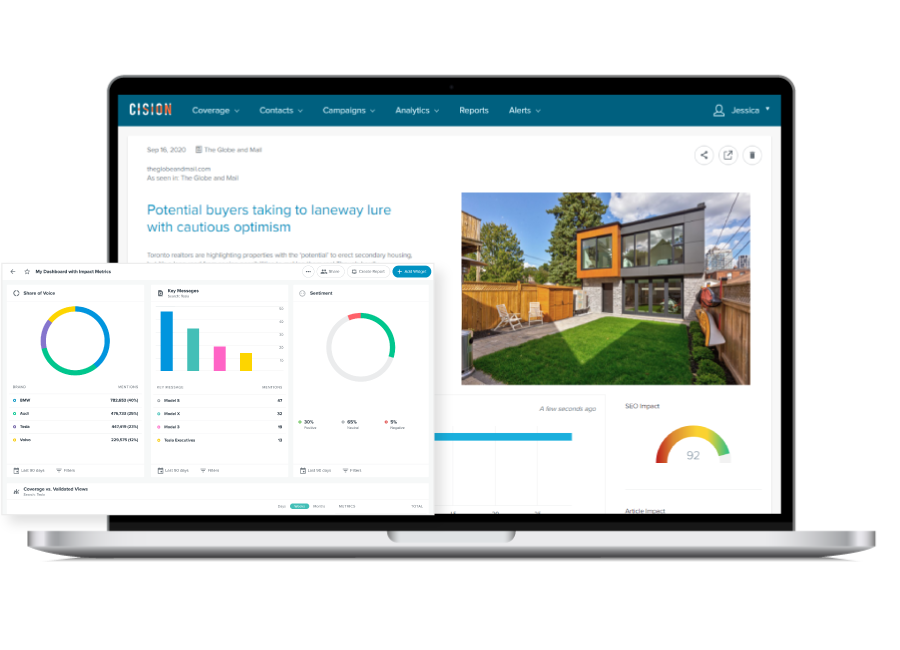 CEH Case Study
The Results
Making and Measuring Impact
Cision's Communications Cloud allows CEH to focus their outreach efforts on the most relevant media outlets and journalists kept up to date in real-time. This streamlined implementation has proven to be wildly more efficient than their past processes, allowing strategic communicators to spend their time on their content and messaging and not on administrative and operational tasks.
This is particularly important due to the size of their communications department. Cision's traditional media and social media influencer database has been instrumental in securing coverage and maximising the potential reach of their news and announcements.
Pitches and external communications are landing with the right audiences, given the filtering targeting tools at their fingertips, and they're now able to avoid duplications and outdated contact information.
The Cision Monitoring & Analytics product allows the team to see the impact of their outreach and report to their board and donors on essential metrics and illustrate the ROI of the department.
Client Perspective
"We used to have our own lists of journalists in spreadsheets that got out of date. I like that the Connect database is continually updated so you go in and find the right folks - because journalists move around all the time. That's one challenge that Cision has helped us solve."
Emily Difrisco, Director of Communications
Center for Environmental Health