From the intentionality of each lyric and note, to the precision with which she applies her red lipstick, Taylor Swift leaves no details to chance.
Ms. Swift made an indelible mark on the global stage as a singer-songwriter with extraordinary talent and has built a business on her own terms. While her art is one of communication – through words and notes and human emotions – Taylor Swift should also be recognised as a masterful communicator in the digital age while off-stage.
At its core, the field of communications is one of persuasion – whether one is selling an idea, a product or a service – and Taylor Swift does this like few others. Using the launch of her 10th original studio album Midnights as an exemplar, a playbook emerges with best practices for a successful launch.
Though some paid promotions were activated in the countdown to the release of Midnights, Taylor Swift relied heavily on earned, shared and owned channels (the E, S and O of PESO) for her well-planned communications strategy.
Given her status as a multiple Grammy Award–winner and global icon, without a well-planned launch campaign...
While most brands don't have an audience of the magnitude and level of devotion that Taylor Swift has, the example of her album Midnights does offer a roadmap for introducing new products into the market.
This got us thinking… and so we turned to social listening tools, tracked mentions and sentiment against Taylor Swift's multi-channel messaging.
One thing became clear: Even when you are as beloved a superstar as Taylor Swift, a strategic and well-balanced communications campaign should still be part of every product launch.
Behind every successful launch is a strategic plan. As she said to Jimmy Fallon, one of the things her fans tease her about is the meticulous "needing to plan things out." She continued, "I think we've just stopped pretending it's accidental at this point."

"I think we've just stopped pretending it's accidental at this point."
Tay Tay's extraordinary talent, combined with a well-thought-out lead-up campaign, contributed to her earning countless accolades and broken records. So let's deconstruct the seven weeks prior to Midnights' on-sale date and talk about the power of strategic communications.
Up Till Midnight: Analysis of a Product Launch
With a nod to Taylor Swift's lucky number, here are 13 key dates in the seven-week lead-up to Midnights and the six days following the album drop. Note the perfect mix of earned and owned media channels, as well as the cadence of the events and announcements that keep her in the news and top of mind.
She is particularly adept at teasing what is to come, meting out product details to her fanbase and including clear calls to action around pre-ordering the music and related merch.
28/8/22
Midnights is announced during Swift's award acceptance speech at MTV's Video Music Awards. Before leaving the stage with a new VMA in hand for "All Too Well (10 Minute Version)," fans were left with the promise of a new album, the launch date and a cliffhanger: "And I will tell you more at midnight."
29/8/22, 12:00 a.m.
At midnight, Taylor Swift announces new album via Instagram, Twitter, Facebook, Snapchat and Tumblr: "Midnights, the stories of 13 sleepless nights scattered throughout my life, will be out October 21. Meet me at midnight."
9/9/22
An appearance at the Toronto International Film Festival for the screening of "All Too Well: A Short Film."
16/9/22
The "It's a clock" social video is published; the artist demonstrates how the back covers of the four different versions of the record – when arranged as a 2x2 grid – form a clock.
20/9/22
At the Nashville Songwriters Awards, she was recognised as a Songwriter-Artist of the Decade, spoke about lyricism and her approach to songwriting and she performed live.
2/10/22
The story behind track 3, "Anti-Hero," is discussed, and fans are alerted to the CDs and signed photographs available from her website.
7/10/22
Just "13 sleepless nights" before the album drop, multiple social media posts with the hashtag  #MidnightsMayhemWithMe are used to reveal the names of individual song titles.
11/10/22
Via an Instagram Reel, she talks about the song "Snow on the Beach" – track 4 on Midnights – and her collaboration with Lana Del Rey; the accompanying text speaks to the availability of "special edition vinyls with hand signed photographs" that can be found on her website.
13/10/22
Fan voting for the 2022 American Music Awards opens up with a Tweet that's amplified by @TaylorNation, the artist's official management team; with nearly 2 million followers on Twitter, all are encouraged to vote for Taylor Swift.
20/10/22
Midnights Manifest, a clever social video featuring a week-long calendar accompanied by the sounds of a clock ticking and a marker writing, is published; key Midnights-related activities scheduled from 10/20 to 10/28 are revealed.
In collaboration with the NFL and Amazon Prime, the official Midnights calendar video trailer is shown during the third quarter of Thursday Night Football in a move that may have been intended to reach new audiences.

21/10/22
Midnights drops just after midnight and several videos are posted, including one for the song "Anti-Hero."

The Anti-Hero Challenge is announced on YouTube Shorts, whereby fans are encouraged to post their own short videos with a snippet from the song and the hashtag #TSAntiHeroChallenge.
Just after 3:00 a.m., the "3am tracks" are announced on Tumblr
24/10/22
In an appearance on the The Jimmy Fallon Show, an upcoming tour is suggested and, with her trademark humility and grace, the fans are acknowledged and recognised for their support and love of the record.

The official video for the song "Bejeweled" is released on multiple social channels, keeping fans engaged with album-related content.

Pro Tips from the Mastermind's Communication Plan
Design your campaign with a steady drumbeat of announcements on channels that matter most. On 28 August, 2022, when Taylor Swift announced her 10th record, she did so to her fans on Instagram, Twitter, Facebook, Snapchat and Tumblr, speaking to those with the most interest on the platforms they choose. She went direct to her supporters who'd been waiting desperately for the announcement – and was rewarded with an explosion of social media love.
Understand the potential of traditional and digital media in your PESO mix. If your product is one with mass market appeal, talk directly to the mass market. T. Swizzle scheduled appearances on Thursday Night Football

and

The Jimmy Fallon Show – two massive mainstream platforms with national reach and the potential to get the word out to a wider orbit.
Communicate authentically. Note that the nature of her commercial product – song lyrics, recordings, videos, live performances – is intimate, by design. In Instagram videos, behind a podium, or on the mic, she speaks in honestly, showing the world her appreciation and insecurities, values and fears – and always with authenticity and grace. And you can, too. Sharing "behind-the-scenes" content, taking a stand on critical issues, and responding directly to stakeholders build consumer trust and loyalty.
Seed your audience with sneak peeks at the new product. Different industries build excitement by offering early access or sample content: unboxing, cover reveals, listening parties, video trailers... Mastermind Swift has leveraged this tactic in the weeks leading up to her album drop. Consider how to use multimedia to preview what is to come to your super-fans and the general public, and benefit from online engagement that amplifies your story. And don't be shy about directing your audience to the platforms where a pre-order, purchase or registration can be made. Make it easy for consumers to consume.
Update your owned channels with relevant content. Any official brand website, email marketing efforts or in-person opportunities (appearances, pop-ups or retail stores) should mirror paid, earned and shared media in a product launch campaign. Think verbally, visually and aurally. For websites, include links to third parties where consumers can make purchases or clear calls to action if you're set up for ecommerce. Publish key product details (metadata matters!) such as SEO-friendly descriptions, prices and dates, images and information about exclusive offers.
Don't wait until you have something to sell to talk to consumers. For more than a decade, Taylor Swift has used social media platforms for listening and connecting with the public – not just for broadcasting. She's always gracious for the support of her fans; rewards them and speaks directly to them – on social media, when being interviewed. Because she has invested in her fans, they are deeply invested in her.
Stories from the Data Mine
Monitoring news, Reddit, Tumblr, Twitter, YouTube and top blogs and forums suggest that the release of Taylor Swift's Midnights album has been noteworthy for the artist, in terms of volume of mentions and in positive lift of her reputation.
In the period following MTV's 2022 Video Music Awards, when Taylor Swift first spoke of the Midnights launch date, she garnered 9,153,654 mentions, a 170% increase over the previous 58 days (which saw just 3,387,464 mentions).
And in the week for the on-sale date, the increase was even more dramatic: the number of mentions in social was up 216% over the previous 7 days with 3,263,797 mentions (making up 36% of that 9M volume).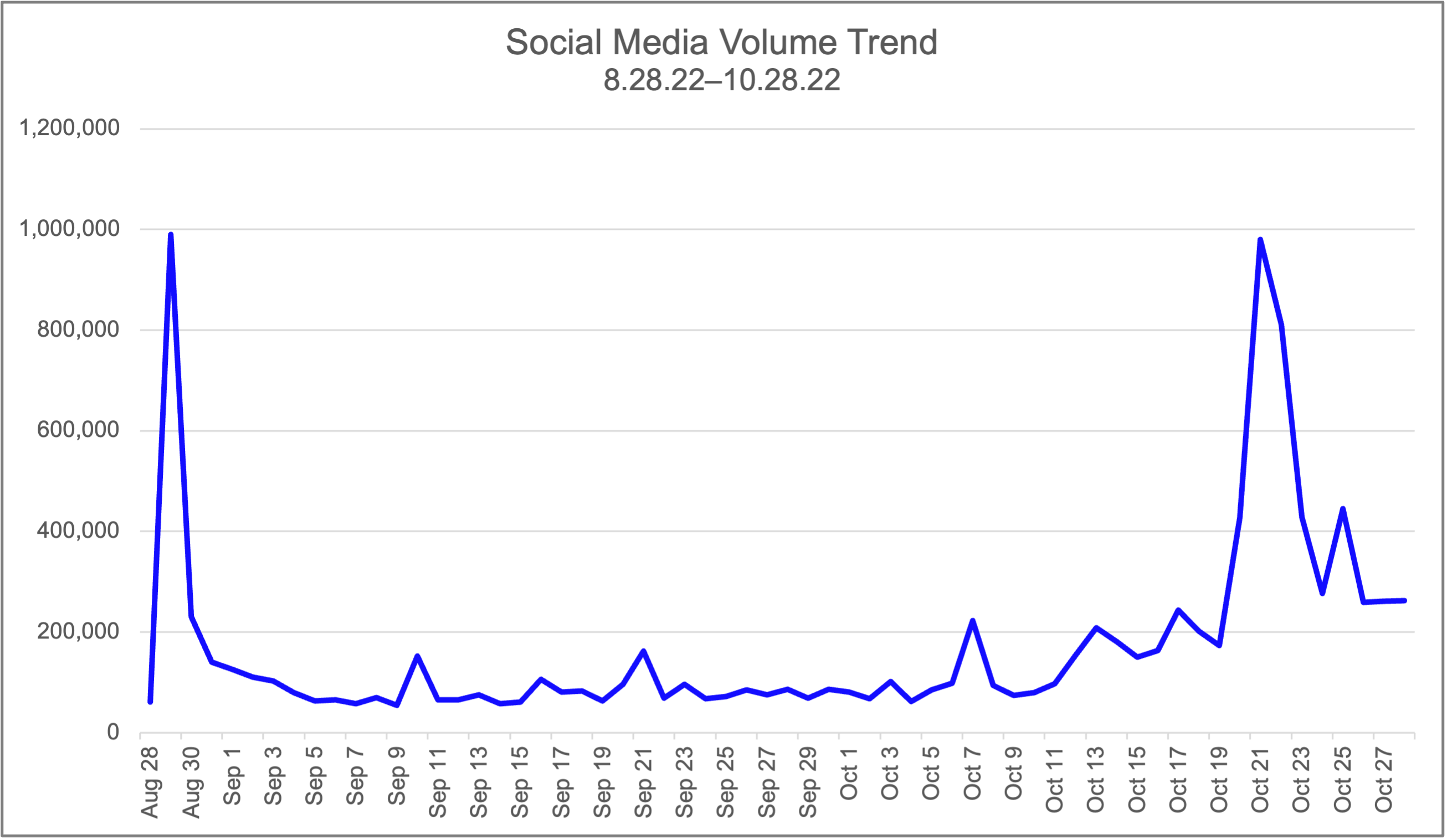 Social impressions on blogs, forums, news, Reddit, Tumblr, Twitter and YouTube. Source: Brandwatch.
Looking at sentiment, the announcement and the album release pushed positive conversation up and the negative sentiment down; the number of positive mentions alone increasing by 192%. Again, this becomes even more dramatic when looking at the week before the album release, when we see volumes of positive discussion increase 394% over the previous week.
Both shifts can, in part, be explained by a pivot in conversation after Swift saw criticism over a late July report naming the singer as the biggest CO2 emitter of any celebrity. Following the VMA announcement, however, peaks in conversation were all attributable to anticipation for Midnights, fueled by the artist's track name release (with particular excitement around the Lana Del Rey collaboration), and discussion around the American Music Awards.
Though 21 October, the day of the release, saw a slightly smaller peak than the initial announcement, it has resulted in more sustained levels of conversation, netting more than 2.2M mentions in three days, compared to the VMA announcement which netted 1.3M in three days.
Taylor Swift: Content Analysis
28.08.22–28.10.22
The number of articles online that mentioned Taylor Swift in the seven-week lead-up to Midnights plus the seven days following is consistent with the level of user engagement. Her fan base is huge and wildly active on social channels – and authoritative media outlets with international reach and bloggers alike are game to cover the musical icon from whichever angle best suits their audiences.

Global view of English-language content related to Taylor Swift. Source: BuzzSumo.
Tracking the Album Tracks
From 21 September to 23 October, we tracked mentions of specific song titles on blogs, forums, news, Reddit, Tumblr, Twitter and YouTube.
The song "Anti-Hero" is by far the most talked-about song on social. This may be attributable to a number of factors, including the power and appeal of the song in and of itself, airplay, ranking on streaming services, airplay, and the #TSAntiHeroChallenge launched by Taylor Swift on YouTube Shorts on 21 October.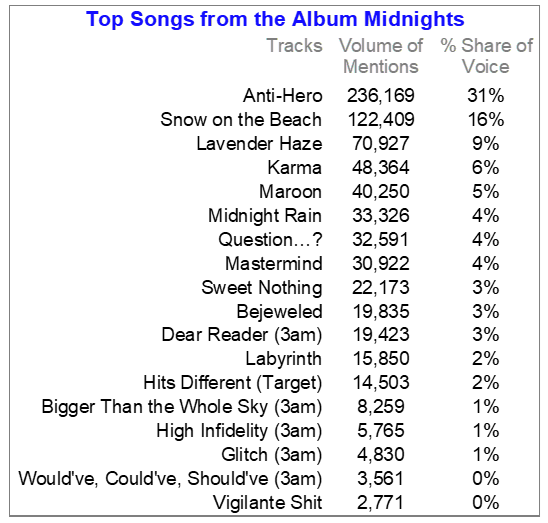 Source: Brandwatch.


The "3am Edition" tracks were generally less buzzed about than those on the original album, with the same holding true for the song "Hits Different" that was released as an exclusive to the CDs sold by Target.

Social listening provided another layer of intelligence on consumer reception. Beginning a month prior to Midnights' release, fans reacted enthusiastically to a series of Taylor Swift TikToks announcing track titles, #MidnightsMayhemWithMe. In comments, fans speculated on hidden meanings and easter eggs as merch, multiple versions of the album and concert dates were announced.
Most fans were elated at the 3:00 a.m. announcement on 21 October of additional tracks, however some reacted less favorably, concerned that the album they had pre-ordered would not include the bonus tracks, meaning they might need to make additional purchases.
On a 24 October Instagram post showing a Times Square ad of Pandora streaming Midnights, #TaylorNation expressed strong preferences for Spotify or Apple Music as their listening platform.
After tour dates were officially announced, fans who endured long waits to book tickets and were unable to complete their purchases expressed frustration at the Ticketmaster fail or in some cases, prohibitively expensive ticket prices.
Twitter over-indexed for positive sentiment. Positive posts with the highest engagement were clustered in October around the release of Midnights with @AppleMusic surveying fans about their favorite album to date and congratulating Taylor on the album release. Engagement for a post about Lana Del Rey's collaboration on the album also contributed to the positivity of social chatter.
No Surprise with Midnights
As her previous two studio albums, evermore (11 December, 2020) and folklore (24 July, 2020), were surprise drops, and Swift has brought new fans into the fold in the time since they were introduced to the market, the story told by available data is one of significant organic social media growth in between releases.
Much of the measurable public-facing commentary around Midnights is driven by Swift's strategic use of social media on platforms where fans, Taylor Nation (an arm of her PR team), and other interested accounts can amplify official announcements and share their own points of view and interpretations of what's been revealed and what's coming.

Looking closely at the teaser content Swift chose to publish in the lead-up to Midnights, each tasty morsel of information is revealed one at a time: the album cover, release date and pre-order link; collectible vinyl editions, a "making of" video; the track list; announcement of publicity appearances and so on. Using text, photographs and short videos, the world is introduced to the new album and Taylor Swift is kept top of mind in this 7-week period. There is new news each week.
This is how to build anticipation.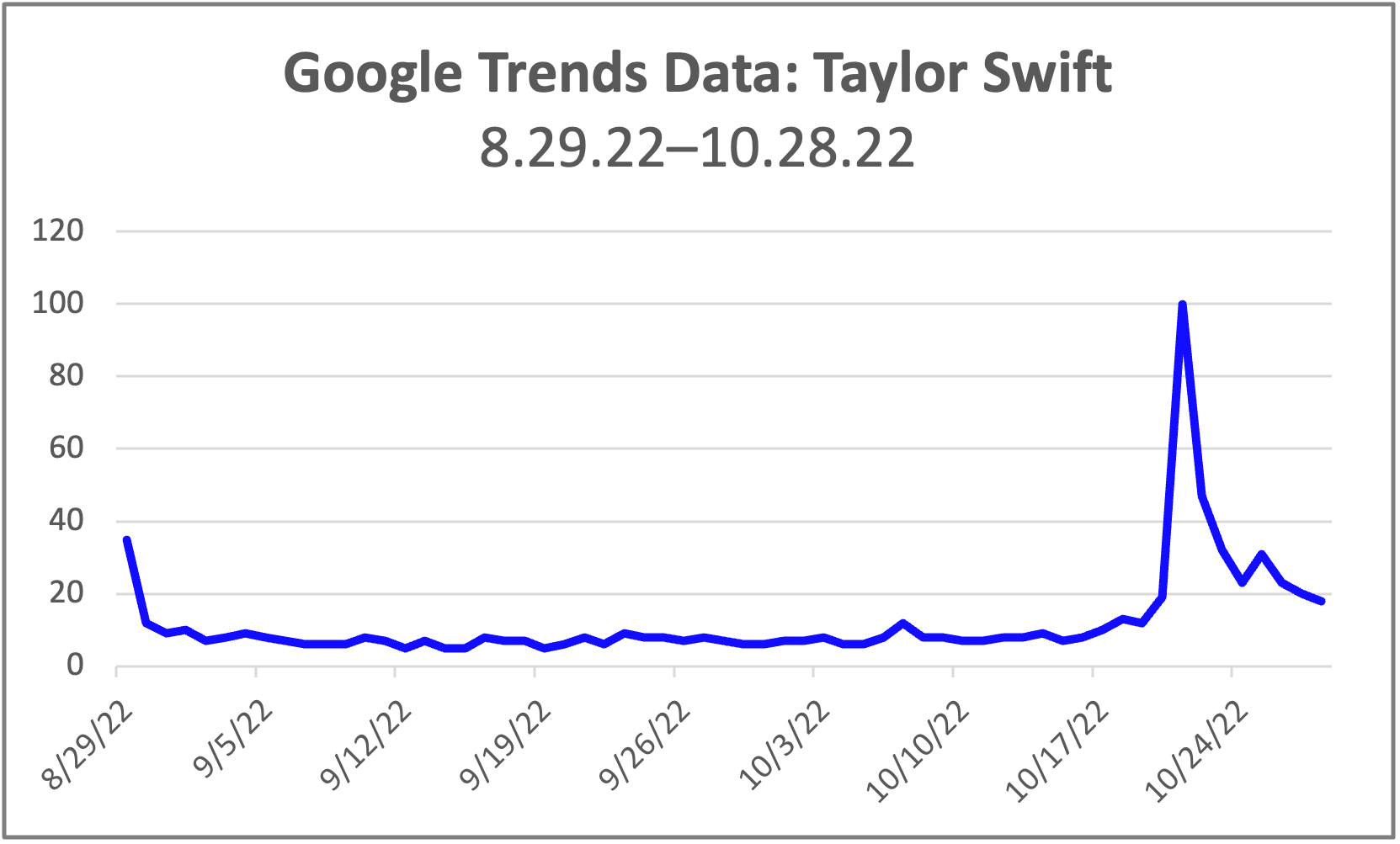 The volume of search queries for Taylor Swift; note the "peak popularity" on the date of Midnights' release. Source: Google Trends.
Product Launch PR Playbook
Engage with your audience authentically and ongoingly
Determine your key messaging up front
Set a cadence for revealing details to super-fans and the public
Know where your audience is and speak to them where they are
Use multimedia in your messaging
Consider leveraging relationships with traditional media outlets with greatest possible reach
Build anticipation by seeding information one element at a time
Include clear calls to action that direct consumers to pre-order, purchase, download or register for your product
This research has been a collaboration between Cision Insights, Brandwatch and BuzzSumo.
To learn more about how Cision is helping brands and brand professionals employ these lessons to refine their communications strategies, speak with one of our experts.

Learn More. Do More. demo new
PR Tips, Case Studies, and Product Updates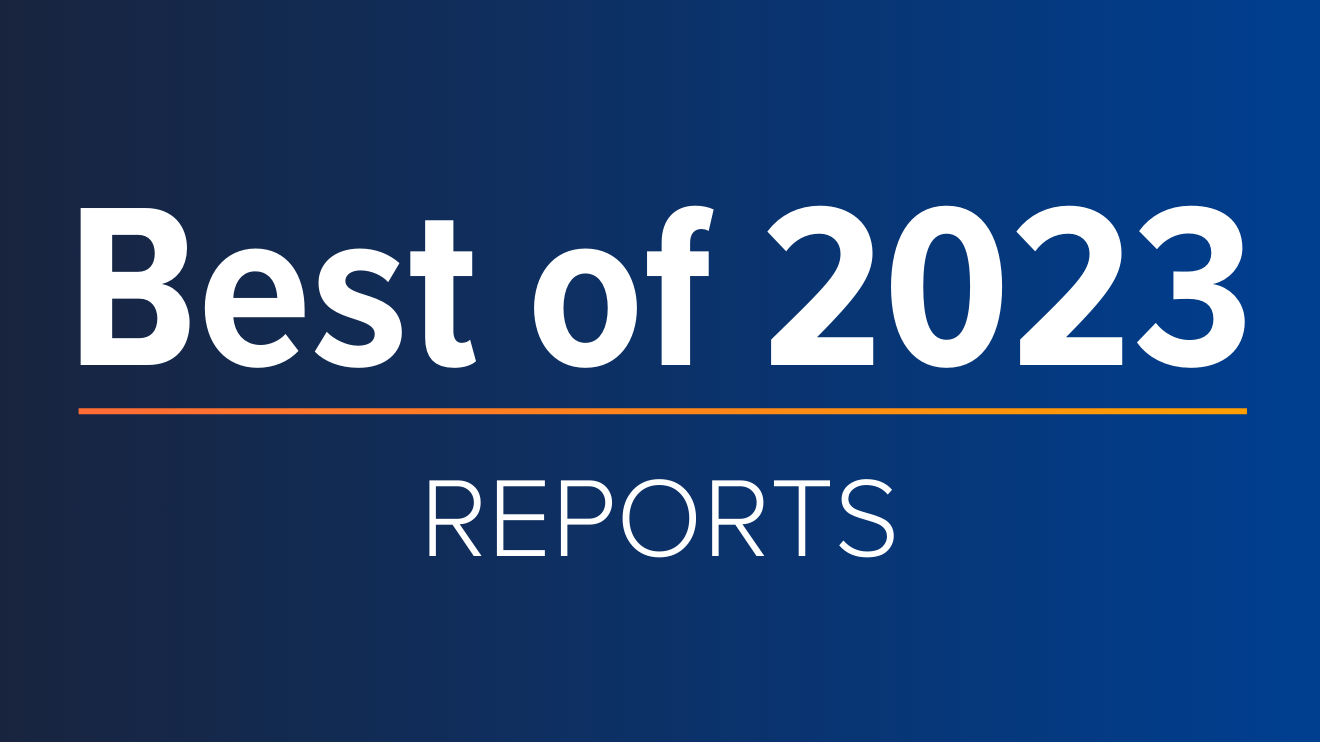 White Papers
ICYMI: Cision's Top Guides & Reports of 2023
With 2023 coming to a close and a new year rapidly approaching, now is the perfect time to reflect on the past year, lessons learned – and start setting the stage for a successful 2024. In the always-on, ever-evolving PR and comms industry, staying...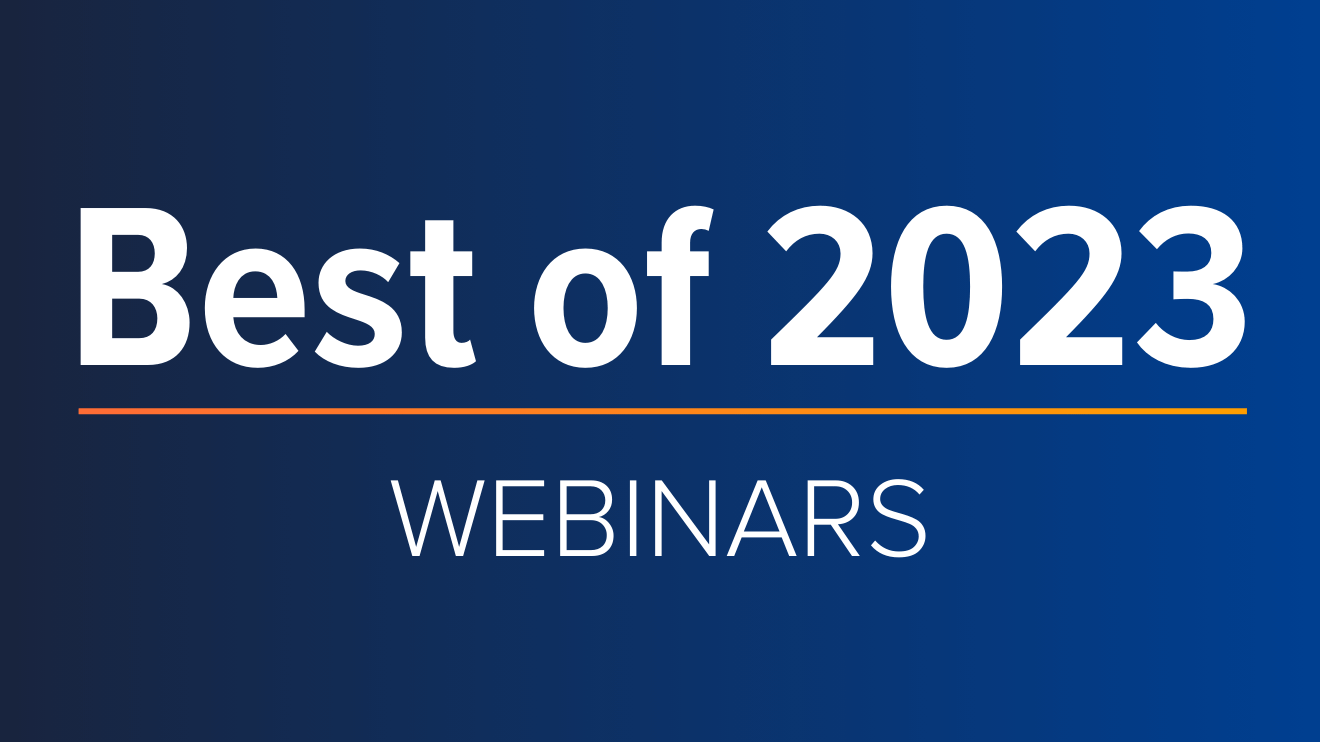 Webinars & Events
ICYMI: Cision's Top 5 Webinars of 2023
The end of the year is just around the corner, which means time to start building strategic plans, setting priorities, establishing goals and ultimately ensuring everything is ready and in place for success in the year ahead. One great way to make...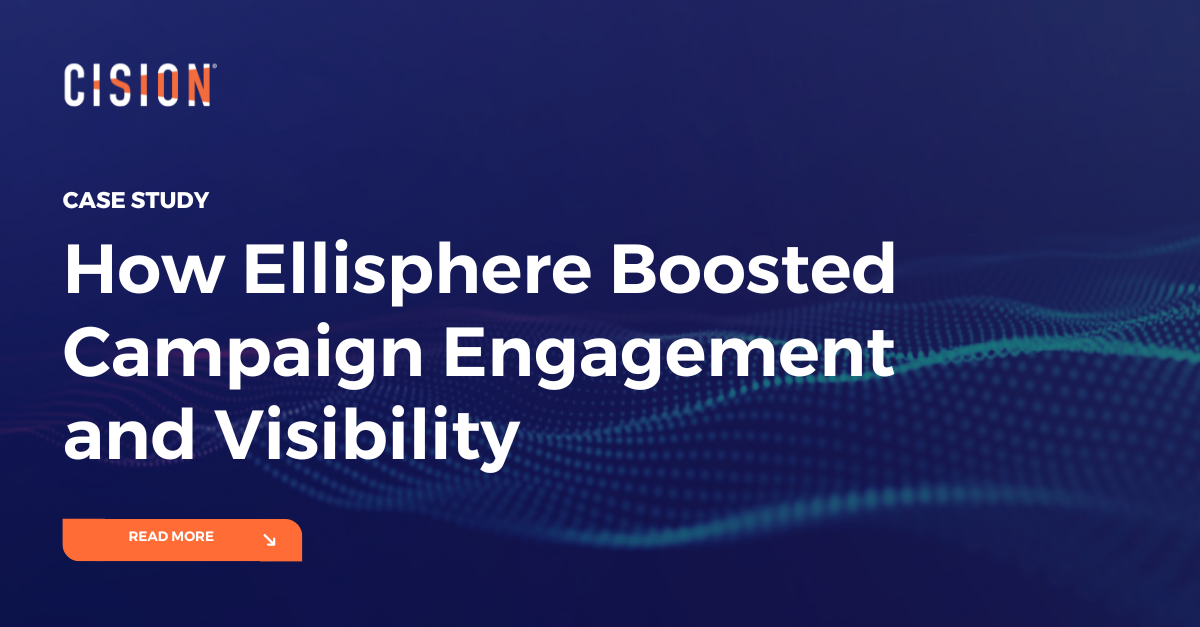 Success Stories
How Ellisphere Boosted Campaign Engagement and Visibility
Find out how Ellisphere increased engagement on their campaign content by up to 48% using our Multichannel News Releases and Guaranteed Paid Placement.