Aesthetics
Citywire Wealth Manager
County Wedding Magazines
FoodTribe
Frost Magazine
GLAMOUR
healthy
Knit Now
Magic Radio
The Mail on Sunday - EVENT
Mobile World Live
My Weekly
Optician
SheerLuxe
Timber Trades Journal
TI Media
TI Media
Freelance Update - John Fitzsimons
Journalist Update - Oliver Gordon
Freelance Update - Stephen Hall
Freelance Update - Katrina Holden
International Moves
Featured Jobs
2020 Sigma Awards
2020 BSME Talent Awards
Kent Press & Broadcast Awards 2020
In Conversation With Alison Phillips
PressPad Launch Party
Workshop: Journo Resources and Akin Magazine
DMA Media - The Future of News
The Refugee Journalism Project
Nine Media Training

Aesthetics
Holly Carver has been appointed Journalist at Aesthetics and will cover industry news. Holly recently graduated from a postgraduate course in journalism. She can be found on LinkedIn.

Citywire Wealth Manager
Loukia Gyftopoulou has been appointed News Editor at Citywire Wealth Manager, where she was previously a Reporter. Loukia can be found tweeting at twitter.com/loukia_g

County Wedding Magazines
Hannah Faulder has taken over as Travel Editor at County Wedding Magazines. Her main focus will be on honeymoons, but she will also be covering mini-moons, proposal trips and pre-wedding relaxation breaks across the 19 regional wedding magazines and websites. Hannah is interested in receiving press trip opportunities and relevant travel news. They also run honeymoon competitions for clients.

FoodTribe
The new website and app FoodTribe has been launched by the team behind DriveTribe, which was founded by Jeremy Clarkson, Richard Hammond and James May. FoodTribe enables food & drink enthusiasts from around the world to engage with the things they love, share the stories behind the recipes they cook, and read and watch great features from professional foodies, chefs and celebrities. The site is part social media, part editorial, where anyone can be a content creator. Rachael Hogg has joined as Editor, and is looking to hear from PRs about food & drink product and industry info, reviews, launches, trips and any other exciting news from the world of F&B. Rachael can be found tweeting at twitter.com/RachaelHogg

Frost Magazine
The Frost Magazine team has moved offices, and the new address can be found in the Cision database.

GLAMOUR
Sophie Cockett joins GLAMOUR as Commerce Writer and will be working across the brand's shopping content. She would like to hear about new product launches in the beauty, fashion and lifestyle spaces that GLAMOUR readers might be interested in.

healthy
healthy magazine is launching 'healthy loves', an editorial product round-up covering health, fitness, food, natural beauty, lifestyle, books, tech/gadgets and home. The team are interested in hearing from PRs about relevant products and samples.

Knit Now
Jayne Edwards has joined Knit Now as Deputy Editor. The team can be found tweeting at twitter.com/knitnowmagazine

Magic Radio
Alice Westoby has been appointed Social and Digital Manager at Magic Radio. She was previously at Absolute Radio and Heart. Alice is managing social content across all platforms as well as editorial content for Magic and its sister stations – Magic Chilled, Magic Soul, Magic At The Musicals and Magic Workout. They cover music, TV, movies, theatre, general entertainment and a small amount of lifestyle, and they are always open to pitches from potential guests for online video content. Alice can be found tweeting at twitter.com/alicemayw_

The Mail on Sunday - EVENT
Kirsty Tyler has been appointed Assistant Editor at EVENT magazine.

Mobile World Live
Manny Pham has joined Mobile World Live as a Reporter. He was previously Features Editor at Mobile News, and can be found tweeting at twitter.com/manhwich

My Weekly
Susan Watson is now Commissioning Fiction Editor at My Weekly magazine and is keen to hear about new book releases and fiction related news. Susan was previously Celebrity Editor at My Weekly. She can be found on Twitter at twitter.com/MWFictionEditor

Optician
Andrew McClean is now Content Editor at Optician. He joins them from Optometry Today, where he was Senior Reporter. Andrew can be found tweeting at twitter.com/drewmcclean

SheerLuxe
Tor Cardona has joined SheerLuxe as Wellness Editor. Prior to this she worked freelance, writing about health, fitness, wellness and beauty. Tor can be found on Instagram at www.instagram.com/torcardona

Timber Trades Journal
Simon Hastelow has joined Timber Trades Journal and its sister title Wood Based Panels International as Assistant Editor. Simon, who is based in Dartford, has experience at a variety of publications from scientific journals to daily newspapers and lifestyle magazines. He will lead the titles' news coverage, handle the e-newsletters and social media channels, as well as writing features. Simon can be found on Linkedin.

TI Media
Hannah Sherwood has joined TI Media as Marketing & Events Manager in the Life & Style department. She works across Ideal Home, woman&home, Homes & Gardens and Livingetc. Hannah is interested in interested in hearing from beauty brands, women's luxury, interior brands and luxury holidays for partnership and promotional activity.

TI Media
Rose Goodman has been appointed Junior Health Writer across TI Media's Life & Style portfolio. Rose will work across Woman & Home, Feel Good You, woman, Woman's Own and Chat, as well as Woman & Home Online and Good to Know Online. She covers health, fitness, diet, wellbeing and lifestyle.

Freelance Update - John Fitzsimons
Award-winning personal finance journalist John Fitzsimons is available for freelance commissions. A former editor of Mortgage Solutions and loveMONEY, he has written about a range of consumer and financial subjects for the likes of the Mirror, The Sun, The Sunday Times, Forbes and Moneywise. He can be found tweeting at www.twitter.com/johnthejourno and he is also on LinkedIn.

Journalist Update - Oliver Gordon
Freelance journalist and photographer Oliver Gordon has launched Struggles From Below (www.strugglesfrombelow.com), an online magazine reporting on social change, development and sustainability initiatives, and the people behind them. The magazine aims to apply a narrative non-fiction approach, along with quality documentary photography, to the solutions journalism space. Oliver can be found on Instagram at www.instagram.com/olliegordon

Freelance Update - Stephen Hall
Commissioning editor Stephen Hall is an experienced editor and writer looking for freelance writing work. His speciality is business, leadership, lifestyle, travel and current affairs. He has interviewed numerous high-profile business figures including Sir Richard Branson, and had work published at the BBC, Time, Sunrise Bauer media, Compelo, NS Business, CEO magazine, HR frontiers, Future Banking, Future Airport, and Finance Director Europe. Examples of his work can be viewed at www.StephenHall.org.

Freelance Update - Katrina Holden
Australian Journalist and Editor Katrina Holden has gone freelance and is now available for commissions. Katrina has been a Journalist, Editor and Communications Professional for more than 25 years. She specialises in writing on travel and lifestyle and is the former Editor of Vacations & Travel Magazine, Luxury Travel, True Blue Magazine of Rex Airlines, and Drinks Trade magazine. Katrina can be found on Instagram at instagram.com/katrina_holden


International Moves

HUFFPOST (Italy)
Lucia Annunziata has left her position as Editor-in-Chief of the HUFFPOST (Italy) after seven years in the role. The new Editor-in-Chief will be announced in due course.

Il Riformista
Marco Demarco is now Managing Director of the Italian regional newspaper Il Riformista. He replaces Piero Sansonetti, who has left the position to pursue other interests. Marco's last editorial role was as Director of Corriere del Mezzogiorno. He can be found tweeting at  twitter.com/mdemarco55


Featured Jobs

Which?, Online Writer - Travel (6 Month FTC)
Which? is looking for an online writer to join the Travel team, to play a key part in bringing our research to life and help it reach a wider audience. For more information and to apply, click here.

4media group, Senior Account Executive
 4media group, a creative group of communications and research agencies, is looking for a Senior Account Executive to join their expanding PR team. For more information and to apply, please click here.


Awards

2020 Sigma Awards
The Sigma Awards is a new data journalism award which aims to not just celebrate the best data journalism around the world, but also to empower, elevate and enlighten the global community of data journalists. It was created by Aron Pilhofer (Temple University) and Reginald Chua (Reuters), with support from Simon Rogers (Google), and Marianne Bouchart (HEI-DA). It is sponsored by the Google News Initiative and hosted by the European Journalism Centre's DataJournalism.com. Entries to the competition are now open and data teams from around the world have until 3 February 2020 at 11:59pm ET to enter via this online form.

2020 BSME Talent Awards
Entries are now open for the 2020 BSME Talent Awards which reward the brilliance of the all-too-often overlooked members of editorial and digital teams. Entries must be submitted by Friday 7 February 2020 and winners will be announced at the BSME Talent Awards Presentation and Party in June. For more information please click here.

Kent Press & Broadcast Awards 2020
Journalists can now submit entries for the Kent Press & Broadcast Awards, the not-for-profit scheme designed to celebrate and reward local media. The awards feature 15 categories judged by an independent panel of editorial experts, culminating in a presentation ceremony at The Spitfire Ground St Lawrence, Canterbury, on Friday 10 July 2020. The Kent Press & Broadcast Awards are open to any print, broadcast or online journalist whose audience is primarily in Kent, and entries must be received by 5pm on Thursday 9 April. Information on how to enter can be found here


Events

In Conversation With Alison Phillips
This week Cision welcomed journalists and PR professionals to a Women in Journalism event with Daily Mirror Editor Alison Phillips, moderated by Eleanor Mills. Among the advice given to aspiring journalists was the call for "resilience, hard work and picking yourself back up". Above all, a "decent" journalist "has to be interested in people". Alison's first 'experience' as an editor, as revealed at the event, was as a child crossing out and rewriting newspaper headlines.

Eleanor Mills, in her advice to women journalists, said to "always negotiate a bit more. Don't be afraid to haggle your way to a bit more value." Alison Phillips reflected on her career at the Mirror and said that managing people was one of the most difficult aspects not just of work, but of life, but that being "blunt" is a necessary skill. An editor has to "be clear about what [they] want", and "if you can't make the yes or no decision you are in the wrong industry." While both agreed that while the situation had improved for female journalists since they started their careers, they acknowledged that competition for roles is fiercer than ever.

Information about Women in Journalism can be found at womeninjournalism.co.uk. For more information about Cision's journalist services, click here.

PressPad Launch Party
The official launch party for the award-winning social enterprise PressPad is on 28 January at News UK. For more information and tickets, reach out to the team at twitter.com/presspaduk.

Workshop: Journo Resources and Akin Magazine
Journo Resources and Akin Magazine are delighted to partner together for the in-depth workshop and one-to-one session 'Nailing Your Instagram Strategy, Building A Brand & More', which will run you through how you can make the best of your Instagram account, how to build your own brand, and more. The event will be based at the Quanström Studio in Norwich. As well as an in-depth workshop and lightning talks sessions, there will be the chance to take part in one-on-one advice clinics where tutors will be on hand to give expert guidance on everything from social media profiles to CVs, design, and pitches. Thursday 30 January 6:30pm-9:00pm, information and tickets here

DMA Media - The Future of News
DMA Media is hosting a panel debate on the future of news in conjunction with the relaunch of thenewsmarket.com. Moderator Kate Bulkley (Media Commentator and Journalist) will speak with panellists Naja Nielsen (Director of Digital, BBC News), Richard Sambrook (Professor and Director at the Centre of Journalism at Cardiff University, formerly Director of Global News at the BBC), and Gary Rogers (Co-founder of Urbs Media and Editor-in Chief of RADAR AI). Journalists, PR and comms professionals are welcome to join an evening of networking on 5 February. For more information and to book tickets, click here

The Refugee Journalism Project
The Refugee Journalism Project is looking for UK-based professional journalists with a refugee background who want to rebuild their careers. Between March and August, 15 selected participants will have the opportunity to acquire new media skills, publish journalistic content, and build professional networks through collaborations. In September, all participants will be invited to apply for the second phase which offers three six-month paid traineeships. For more information about how to apply, click here. Applications close 22 February.

Nine Media Training
Nine Media Training is running the next session of 'The Ultimate PR & Comms Training Day - get your stories into the media' on 28 February. Run by experienced national journalists and PRs Karen Attwood (ex-The i, Independent on Sunday, PA) and Becky Howard, (ex-Stylist Live and Good Housekeeping Celebrity Editor) of Nine Media Training, this course has been curated to deliver insider content that will leave PRs of all levels motivated, energised and bursting with new ideas. The next session takes place on Friday 28 February at the Citizen M Hotel, Bankside, London and to book your place click here.
 
Learn More. Do More. demo new
PR Tips, Case Studies, and Product Updates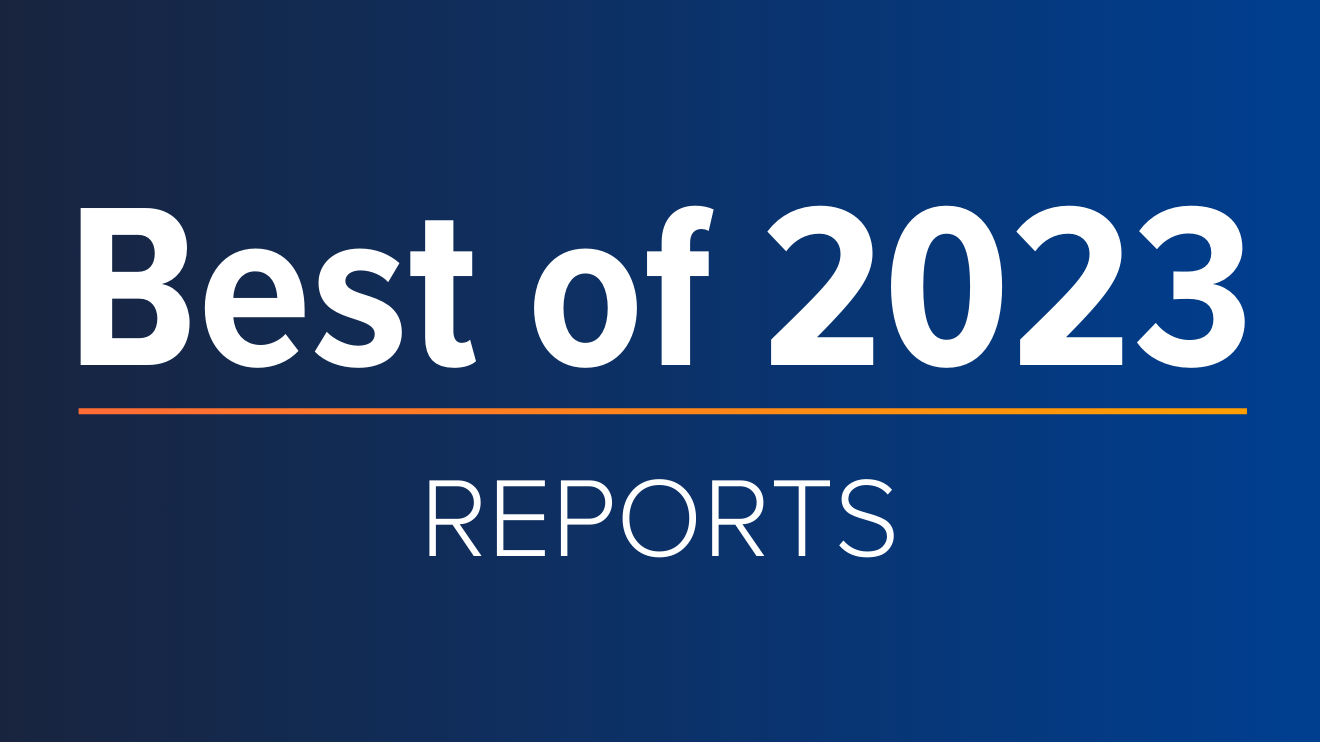 White Papers
ICYMI: Cision's Top Guides & Reports of 2023
With 2023 coming to a close and a new year rapidly approaching, now is the perfect time to reflect on the past year, lessons learned – and start setting the stage for a successful 2024. In the always-on, ever-evolving PR and comms industry, staying...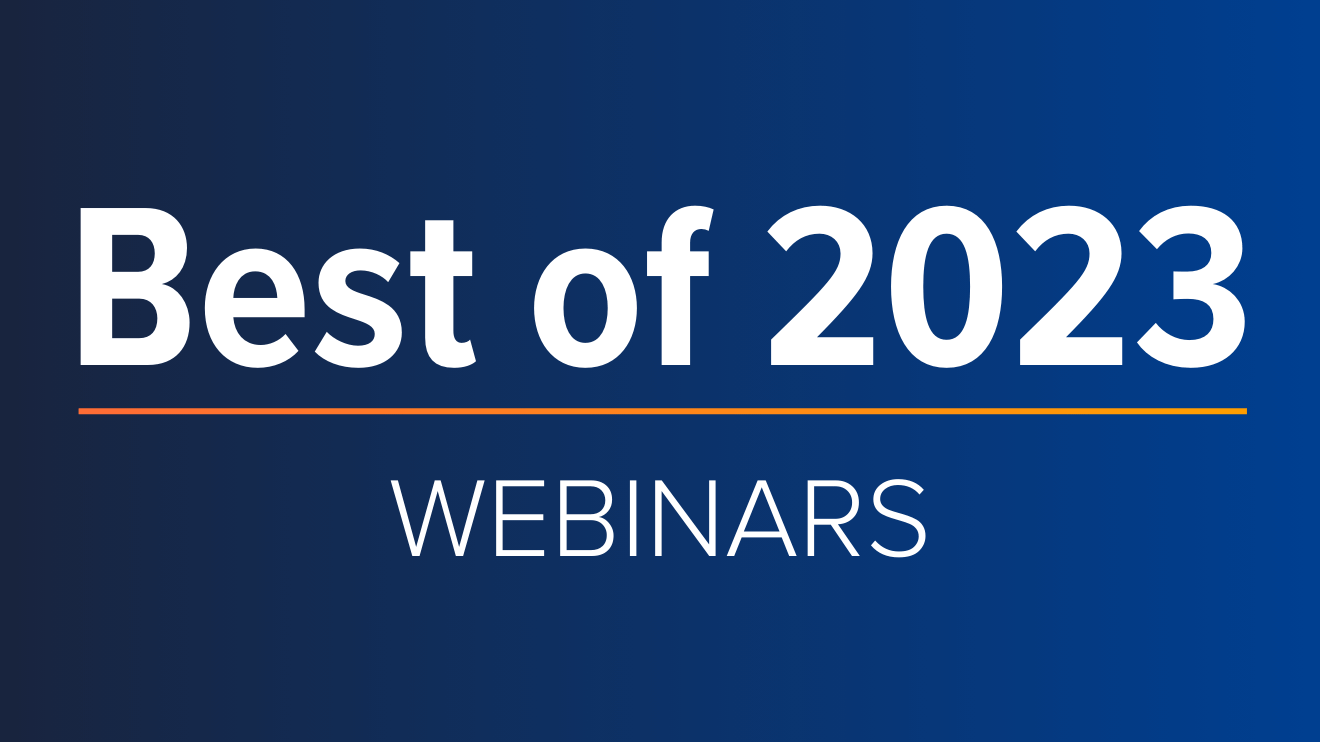 Webinars & Events
ICYMI: Cision's Top 5 Webinars of 2023
The end of the year is just around the corner, which means time to start building strategic plans, setting priorities, establishing goals and ultimately ensuring everything is ready and in place for success in the year ahead. One great way to make...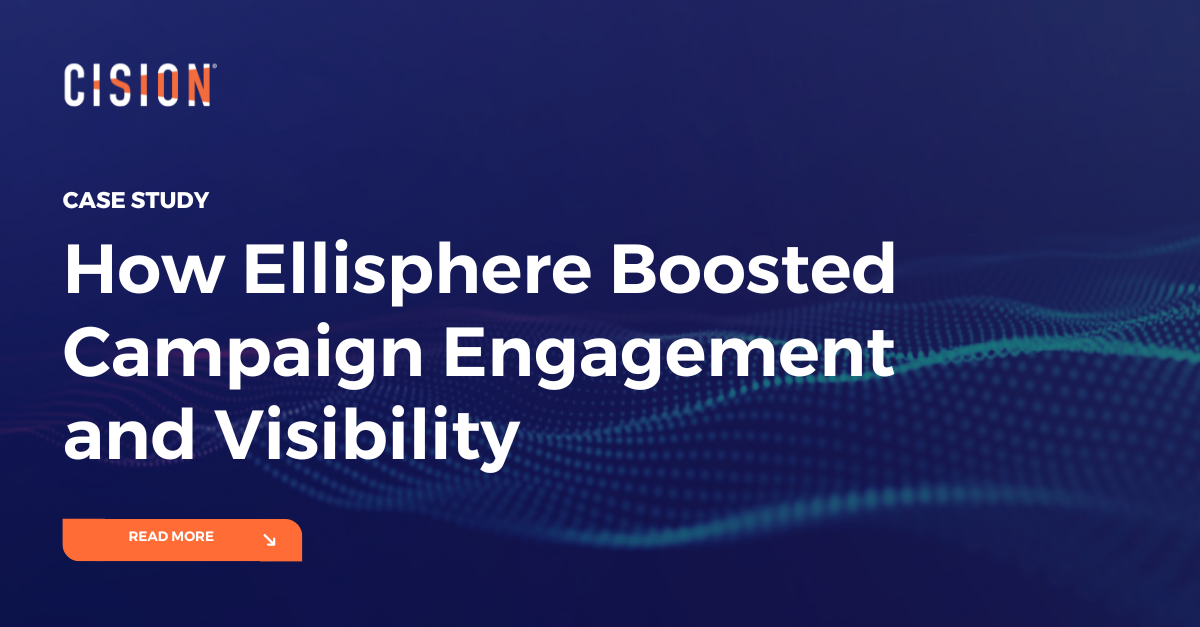 Success Stories
How Ellisphere Boosted Campaign Engagement and Visibility
Find out how Ellisphere increased engagement on their campaign content by up to 48% using our Multichannel News Releases and Guaranteed Paid Placement.