On this International Women's Day 2019, we wanted to celebrate one of Cision's inspirational women – Hannah Hodges – who at 27 runs the company's comprehensive events portfolio.
---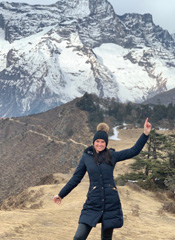 What exactly do you do for Cision, Hannah?
I head up field marketing for Cision's UK and emerging market businesses. Across the regions I execute over 40 events per year – from executive breakfasts and dinners for c-suite clients, to sponsored exhibitions and media briefings.
I've been with Cision for three years through the acquisitions of many of our well-known assets – Gorkana, PR Newswire and most recently acquired Trendkite.
How have you been able to get to a senior position with responsibilities across markets at such a young age?
Throughout my career, I've been lucky enough to have had two amazing bosses who have given me the opportunity to progress and grow successfully. If it wasn't for them, I wouldn't be in the position I am today. Huge shout out to Victoria Morrison and Liz Foggitt!
Proving value and ROI is at the core of our business beliefs, and has made me aware that demonstrating my own worth and successes are key to business progression.
What advice would you give to someone wanting to get into events?
Planning events sounds like the dream job, from menu tasting and choosing décor to spending your days in fancy venues instead of behind a desk, but it takes more than just a love of a great party to succeed in this fast-paced field.
You've got to have an eye for detail and an ability to handle constant deadlines and pressure. According to CNBC, event planning is the sixth most stressful job in the world!
And, if that doesn't put you off, my two biggest pieces of advice would be:
Build your portfolio – there are so many aspects to event planning so try and get as much experience as possible in different sectors. I studied events management at university, but carrying out numerous internships put the theory that I learnt into practice. My first full-time events role came after a three-week internship so you never know where it might lead to. There are lots of event production companies running work experience programmes, and charities are always on the lookout for volunteers.
Attend events for events people – there are lots of free exhibitions and forums that you can attend including SquareMeal's Venues + Events Live,  The BNC's Event Shows and The Event Production Show. These events are great for building your network and will put you at the forefront of new innovations in our ever-growing industry.
What's been the most rewarding event you've been involved with? 
It has to be #CommsCon18! In May of last year, we were tasked to host Cision's largest user group conference for 550 clients and prospects for six months' time… and we thought it was impossible.
Our in-house team created and planned the event from start to finish, and the lack of time, resources and budget really put us to the test. BUT, the long hours and hard work paid off, because on the day we saw over 950 PRs pass through the doors, exceeding our target by 75%.
The results from a post-event email survey found 73% of attendees said the event 'exceeded expectations', and 100% would recommend the event to colleagues.
CommsCon is the highlight of my career so far and will always be one of my biggest achievements.
Which type of events do you have the most fun organising?
My favourite type of event would have to be our Executive Club dinners. The Cision Executive Club is an exclusive group created for senior leaders within the PR and communications industry.
I absolutely love finding new venues to host our dinners in, although if I had to choose all-time favourite private dining room it would have be The Masonic Temple at the Andaz hotel.
Who is your greatest role-model?
I'm not a believer in having famous role model, I feel like I need a personal connection hence why I'd always say my mum or nan. However, a few weeks back, I met Shailee Basnet. Shailee is the coordinator of the 'seven summits women's team', which is the first female team in the world to climb the highest mountain in each continent, including Everest. She is the most inspirational and motivational person I've ever met.
Finally, if you had an unlimited budget, what event would you put on?
Recently I went on a trip of a lifetime to Nepal with Black Tomato Agency, who are the best incentive travel agency I've ever worked with.
Incentives trips are designed to motivate and inspire people to reach a specific business goal – those who hit that target are then entitled to go on that trip.
This trip went above and beyond my expectations, every aspect of the planning and execution went the extra mile. From the initial invitation hand delivered to my office by David Heron, co-head of the agency, straight through to my monogrammed passport cover, luggage tags, yoga outfit and more. Not to mention, the helicopter ride to the peak of Mount Everest and motorbike ride through Katmandu.
As an event planner, one of your key objectives is to leave your delegates with a lasting, memorable impression of not only the event, but your brand too. Black Tomato did this. So huge kudos to Micky Robinson and David Heron for organising such a fantastic trip!

This author has yet to write their bio. Meanwhile lets just say that we are proud Jessica Lewis contributed a whopping 2 entries.